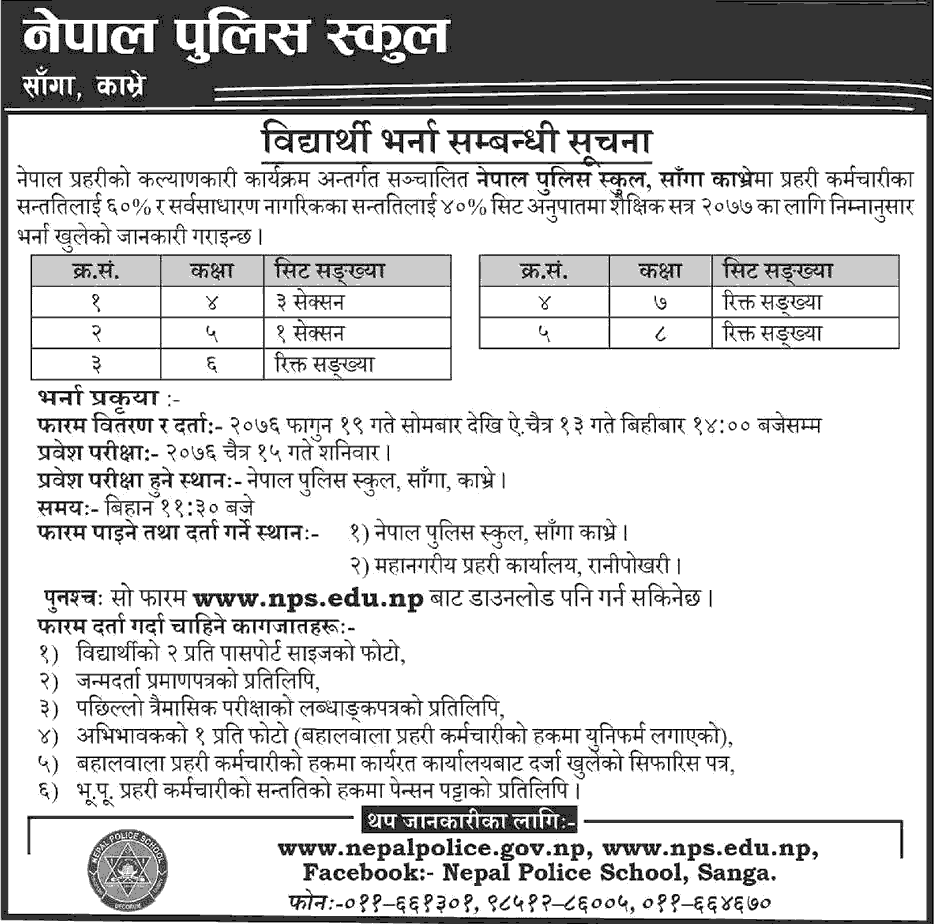 Admission Open for Class 4 to 8 at Nepal Police School:
Student Admission Notice:
According to the welfare program of the Nepal Police, information is given to open the following session for the educational session 2077 at a ratio of 60% to the offspring of the police staff and 40% to the general public.
Admission process: -
Form Distribution & Registration: - 2076/11/29, Monday to 2076/12/03, Thursday 14:00
Entrance Exam: - Saturday 2076/12/15 |
Place of Entrance Examination: - Nepal Police School, Sanga, Kavre
Time: - 11:30 am
Where to find and register the form: -
1) Nepal Police School, Sanga Kavre.
2) Metropolitan Police Office, Ranipokhari.
PS: The form can also be downloaded from www.nps.edu.np.
Documents required for registration of the form: -
2 copies of passport size photo of the student,
Copy of Birth Certificate
Copy of Affidavit of Last Quarterly Examination
1 copy photo of the guardian (uniformed in favor of a restored policeman)
Letter of recommendation that the status of office be opened in the office of the restored police personnel
Copy of pension lease on the rights of Ex-Police employee's children
Contact Address:
Nepal Police School, Sangha, Kavre
www.nepalpolice.gov.np and www.nps.edu.np
Phone: - 011-661301, 98512-86005, 011-664670