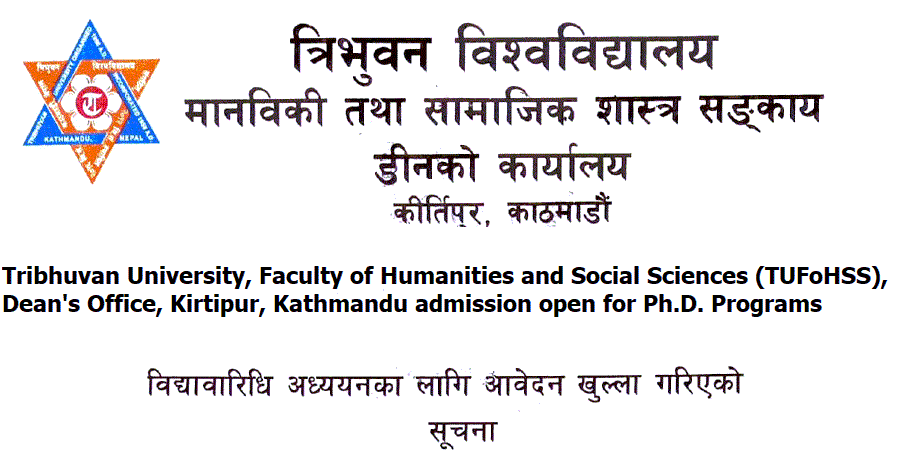 Tribhuvan University, Faculty of Humanities and Social Sciences (TUFoHSS), Dean's Office, Kirtipur, Kathmandu admission open for Ph.D. Programs,
Applications have been opened for admission at the doctoral level under the Faculty of Humanities and Social Sciences. This information has been published for the information of all concerned. Application form can be submitted from 2078-10-17 to 2078-11-16 and with a double fee till 2078-11-21.
Admission at the doctoral level for MPhil degree passed applicants:
Applicants must have passed MPhil level and obtained at least CGPA 3.0 or second class in MPhil level.
Only those who have passed the MPhil level will be able to apply at the doctoral level.
Along with the application form, a completion certificate from SLC to MPhil level and a copy of the citizenship certificate should be submitted. If you are a permanent teacher of TU, ​​you have to submit a certificate of permanent appointment.
The Dean's Office is required to submit a research proposal in the prescribed format, a summary of the MPhil level dissertation, and a peer-reviewed article with a single author in three files, one by one. In addition, a scanned copy of the submitted research proposal along with a Word File, article, and cover of the published journal and the subject list should be submitted.
Applications received without due process will be automatically canceled and there will be no liability of the suspect.
Indigenous and foreign candidates who have passed MPhil or similar examinations in the field of doctoral-level research in subjects other than those mentioned above can apply in consultation with the Dean's Office and the concerned Central Department, subject to "Philosophy and Doctoral Program Operation Procedure 2077".
The applicant has opened an account no. In Nepal Bank Limited, Kirtipur branch of Dean's Office. A bank voucher of Rs. 15,000 / - has to be submitted along with the application.
For more information, please contact the Dean's Office. Information on recruitment and other matters will be informed by another notice.
Contact Detail:
Tribhuvan University, Faculty of Humanities and Social Sciences, Dean's Office, Kirtipur, Kathmandu
Phone: +977-1-4330358, 01-4335104, 01-5902368
Email: [email protected]
Website: www.tufohss.edu.np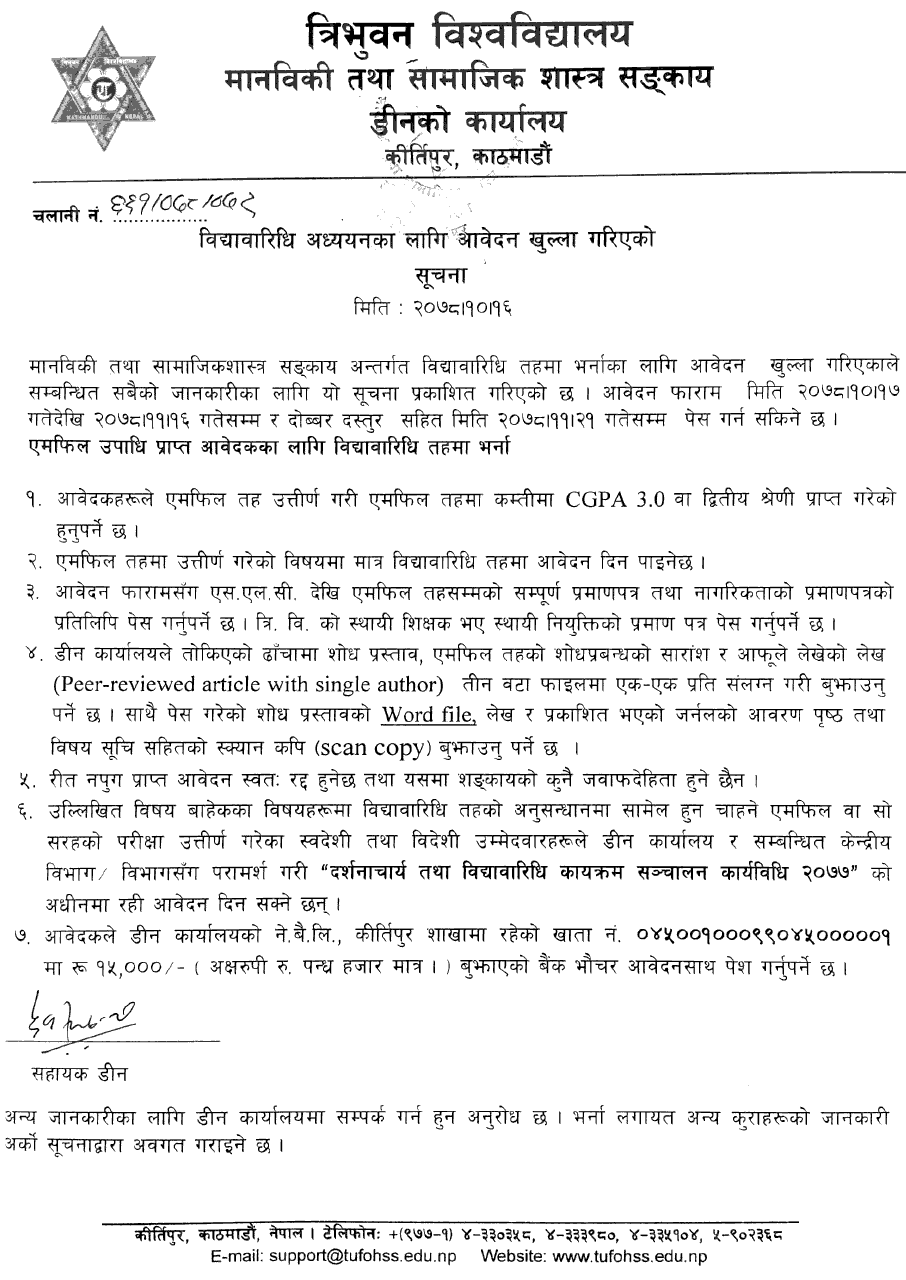 Notice
Tribhuvan University