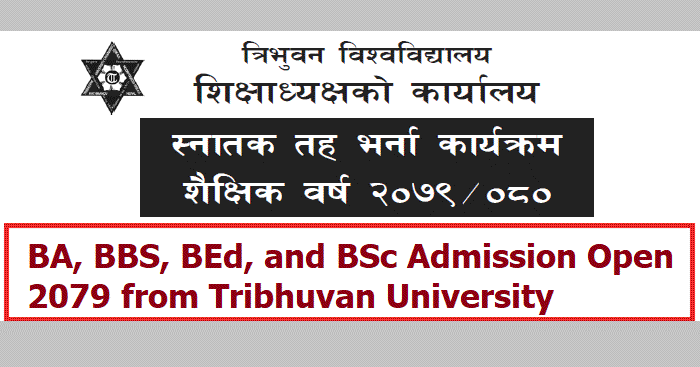 BA, BBS, BEd, and BSc Admission Open 2079: Tribhuvan University, Chancellor's Office, Bachelor level admission program academic year 2779/80. The annual system number for the academic year, 2079/080 in the campuses of Tribhuvan University's Institute of Science and Technology Studies, Faculty of Humanities and Social Sciences, Faculty of Management, and Faculty of Education are as follows. All related study institutes, faculties, campuses, and students' information or information is for certified calculation.
Academic Program Schedule:
1) Application Form Distribution: From 21st Bhadra 2079.
2) Last date for submission of application form and admission: 2079 Mangsir 16th.
3) Class operation: 2079 from Mangsir 18th.
4) Exam Form Filling: By 2080 Baishakh end.
5) Class Ending: 2080 till Shrawan end.
6) Examination to be conducted: 2080 Bhadra.
7) Result in publication: 2080 Poush.
The TU Registration form of the admitted students should be submitted to the TU Examination Control Office and the Regional Examination Control Office by 2079 Chaitra end and students should also send a copy of the passport-sized copy and the name written on the back.
The registration number of the students who have filled out the registration form should be sent from the Examination Control Office and the Regional Examination Control Office to the respective campuses by 2080 Jestha end.
Students seeking admission have to submit a separate application form to the campus under each faculty.
At the time of application, attested copies of recently drawn transcripts and character certificates should be submitted along with the form.
Eligibility for admission will be determined by the concerned Dean's office.
Other detailed information can be obtained from the relevant study institutes, colleges, and campuses.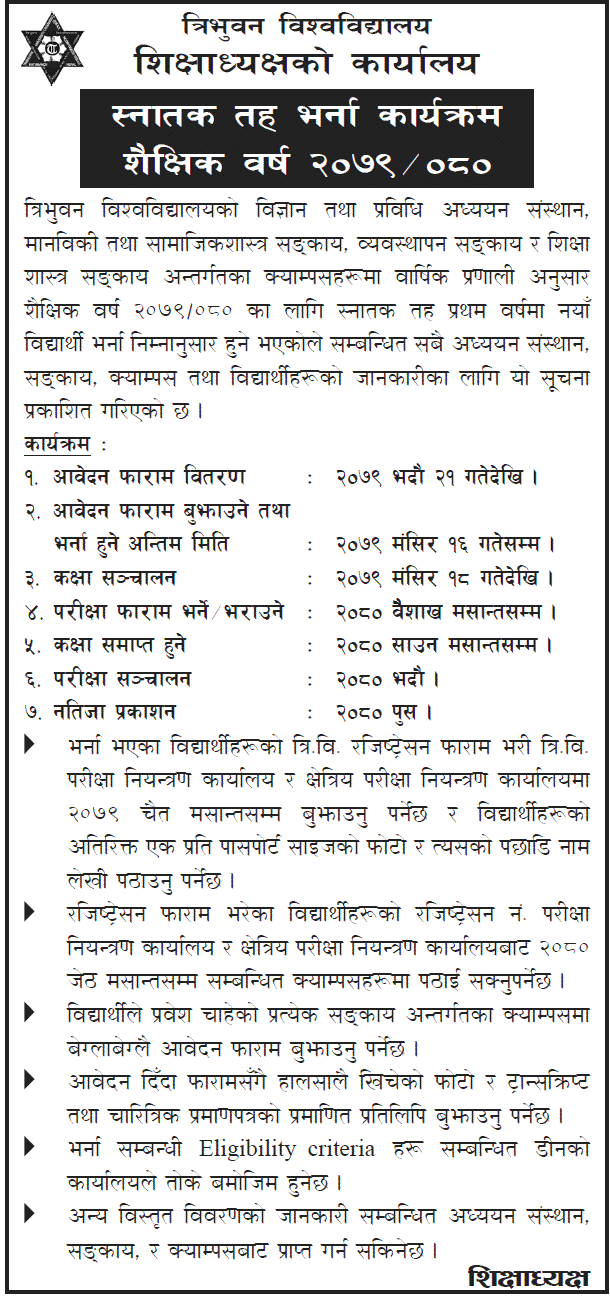 Admission Open
Tribhuvan University