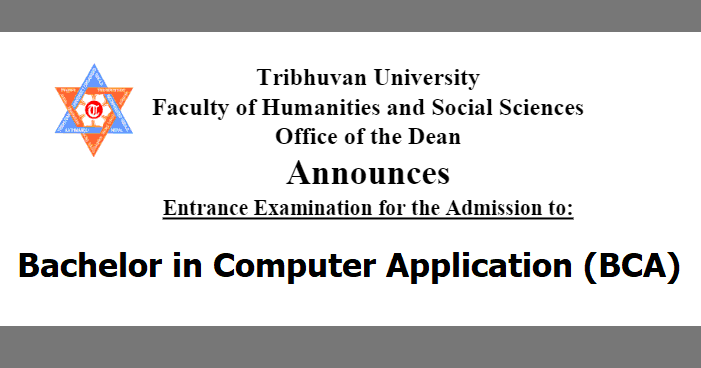 Tribhuvan University Faculty of Humanities and Social Sciences Office of the Dean Announces Entrance Examination for the Admission to: Bachelor in Computer Application (BCA) for the Academic Session 2022 (2079 B.S.)
ELIGIBILITY:
Minimum D- grade in each subject of grade 11 and 12 with a CGPA 2.0 or more. Or Minimum score of second division marks in 10+2, PCL or equivalent in any discipline.
Or
Students who have passed grade 11 and are waiting of grade 12 result can also apply. However, they have to submit all the required documents at the time of admission.
ADMISSION DETAILS
Online Entrance Application Form: 09 August to 08 September 2022 (24th Shrawan - 23 Bhadra 2079 B.S.)
Online Entrance Application Form in Double Fee: 09 August to 4 September 2022 (24th- 29th Bhadra 2079 B.S.)
Applicants can apply the Entrance Form from www.entrance.tufohss.edu.np or www.tufohss.edu.np (in the Online Entrance Form)
Entrance Examination Fee: Rs. 1,500/- (One thousand five hundred only)
Entrance Examination (written): 17 September 2022 (01st Ashwin 2079 B.S.)
Exam Time:- 1:00 PM
Note: The respective campuses should submit the original bank voucher to the Dean's Office by 26th Bhadra (for double fee 30th Bhadra) 2079 B.S.
BCA program is under the Faculty of Humanities and Social Sciences. Students who have not studied science, and management faculty in Class 11th and 12th can also study such IT program.
After studying this educational program for 4 years, one can work in the field of computer language, computer systems, applications, and software. It is said that this course will help to produce skilled manpower who can work in computer systems and applications from both theoretical and practical aspects.
BCA, which started with 6 campuses, is now being taught on 123 campuses. According to the current capacity, 4,410 BCAs are produced annually at Tribhuvan University.
This course will provide an opportunity to work in the field of IT and computing for students who have completed higher M.A. level (plus two), and after that, the way to study courses such as MCA ie Masters in Computer Application (MCA), MSc IT, etc. will be opened. After completing this IT course, like other courses, students are eligible to work in the IT industry and other fields.
After completing this course, one can make a career in the field of computer and information system manager, computer system specialist, IT officer, network and computer system administrator, etc.
Not only this, graduates can work as ethical hackers, web developers, graphic designers, social media handlers, website developers, application developers, researchers, etc. in government, non-government, and IT companies. BCA can be the best option for those who want to make a future in the field of software engineering, development, and research.
Admission Open
Tribhuvan University