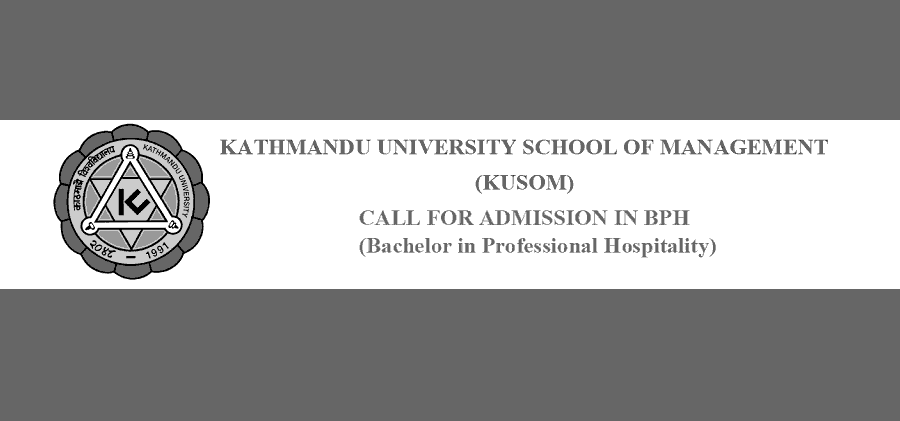 Kathmandu University School of Management (KUSOM) Call for Admission in BPH (Bachelor in Professional Hospitality). Kathmandu University School of Management (KUSOM) is pleased to announce the opening of admission in Bachelor in Professional Hospitality (BPH) in partnership with KU-GATE Kathmandu, and KU-Glacier, Banepa.
KU-GATE and KU-Glacier Hospitality Management programs offer one of the most innovative industry-focused apprenticeship models in hospitality education.
The students enrolled will be "Learning-by-doing". Distinctive features of the program are enhanced real-world learning, globally accredited program, placements of students in the best hospitality organizations, tailor-made learning for students with competency-based evaluation criteria, and promoting indigenous elements of Nepali culture and cuisine in the curriculum.
Eligibility:
Nepali or non-Nepali national with a 10+2 or intermediate or equivalent level study program of at least two-year duration in any discipline with a minimum of 45 percent in aggregate or CGPA of 2.0 on the scale of 4.0 and minimum 'D+' grade in each subject from a university/board recognized by Kathmandu University. GCE Advanced Level students should have passed a minimum of three subjects in A-Level and one general paper in AS Level
Financial aid:
One of the main objectives of this program is to make hospitality and tourism education accessible to students especially coming from marginalized socioeconomic backgrounds. In this regard scholarships and work-based learning opportunities are available where students will be "Learning-by-doing".
The last date for submission of the completed Application Form is Friday, February 4, 2022, by 5:00 pm (NST)
For more information visit :
KU-GATE (BPH)
Mandikhatar, Kathmandu
Phone: 01-4650176 / 01-4376048
Email: [email protected]
Website: https://gate.edu.np/course/ku-gate-bachelor-in-professional-hospitalitybph/
www.kusom.edu.np
_________________________________________________________________
KU-Glacier (BPH)
Banepa-7, Kavrepalanchok
Phone: 011-660675 / 011-660388, 9801360401
Email: [email protected]
Website:
www.baylor.edu.n
www.kusom.edu.np