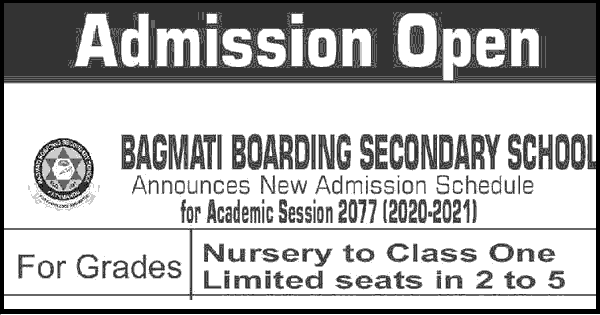 Bagmati Boarding Secondary School Admission Open for Nursery to Class One
Bagmati Boarding Secondary School Announces New Admission Schedule for Academic Session 2077
For Grades: Nursery to Class One, Limited seats in 2 to 5
Entrance Test: Chaitra 8, 2076 Saturday, Time: 8:00 A.M.
ABOUT BAGMATI
Day cum residential School from Play Group to Grade=
SLC Board top ten (twice).
Students exchange with Japan and other foreign counties.
Smart classrooms with modern interactive pedagogy.
Spacious premises with majestic sprawling complex in 20 Ropanis land.
Equipped with all necessary requisites including Futsal,
Swimming Pool and Digital class-rooms.
Value-based learning with Sanskrit Classes.
Chinese language classes.
Please obtain Admission Forms from School reception Chaitra 3, onwards between 9 A.M to 5 P.M.
BAGMATI BOARDING SECONDARY SCHOOL
Sukedhara, Ring Road KTM
Tel- 4374887,4372218
Website: www.bagmatischool.edu.np
Email Id: [email protected]