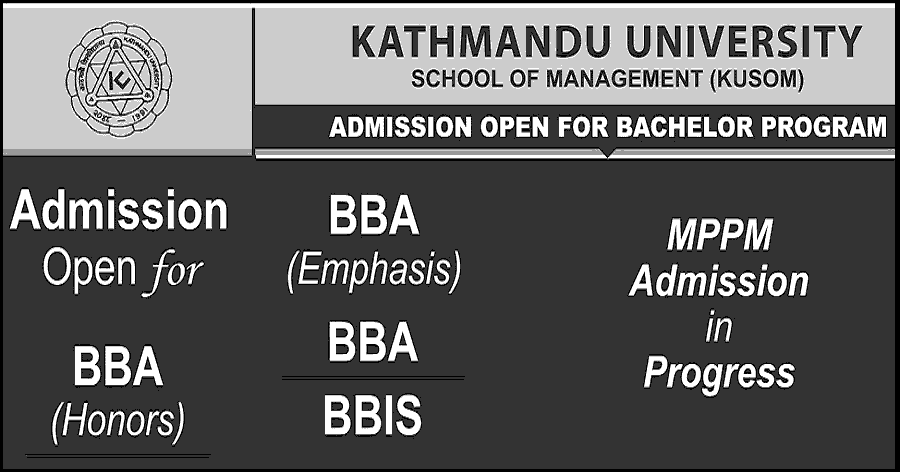 BBA (Honors) BBA (Emphasis) BBA BBIS and MPPM Admission in Progress - Kathmandu University
KATHMANDU UNIVERSITY SCHOOL OF MANAGEMENT (KUSOM) ADMISSION OPEN FOR BACHELOR PROGRAM
Kathmandu University School of Management (KUSOM) announces the opening of admission to Bachelor in Business programs for the academic year 2020.
Eligibility: Nepali or non-Nepali national with a 10+2 or intermediate or equivalent level study program of at least two-year duration in any discipline with a minimum of 50 percent in aggregate or CGPA of 2.0 on the scale of 4.0 and minimum 'C' grade in each subject from a university/board recognized by Kathmandu University. GCE Advanced Level student should have passed a minimum of three subjects in A-Level and one general paper in AS Level with marks/grades requirements as mentioned above.
Note: Applicants who have completed the 11th grade and are waiting to appear in the upcoming 12th-grade examination may apply on a provisional basis. Applicants accepted provisionally must satisfy the above eligibility criteria to continue their study. Applicants are required to sit for an Online Admission Test. Test date will be informed later; you are advised to regularly visit the KUSOM website for updated information.
Financial aid: KU provides limited financial assistance for needy and deserving students. Details about the admission process can be obtained from KUSOM's website www.kusom.edu.np. The extended last date for submission of the completed Application Form is Wednesday, Dec 9, 2020.
For more information contact:
The Admission Office Kathmandu University School of Management (KUSOM) Pinchhe Tole, Balkumari, Lalitpur, Nepal
Phone No: 977-1-5186091, 5186029
E-mail: [email protected]
Website: www.kusom.edu.np
Official Facebook page: http://www.facebook.com/university.kusom
BBA (Honors/Emphasis): KU School of Management, Balkumari, Lalitpur (120 seats)
BBA: Little Angles' College of Management (LACM), Hattiban Lalitpur and Nepal College of Management (NCM), Dhobhighat, Ringroad, Lalitpur (LACM- 80 Seats NCM-120 Seats)
BBIS: KU, Dhulikhel and Little Angels' College of Management (LACM), Hattiban, Lalitpur (KU Dulikhel- 40 seats, LACM- 40 seats)