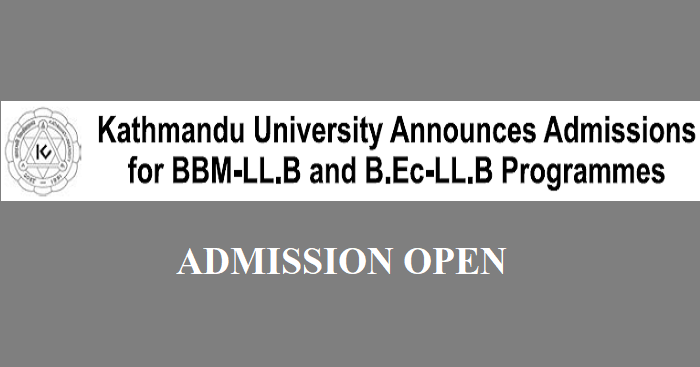 ADMISSIONS IN PROGRESS AT KUSOL BBM-LL.B / BEC-LL.B AT KATHMANDU UNIVERSITY SCHOOL OF LAW
Opening of admissions for the following 5-year integrated undergraduate law courses: BBM-LL.B (Bachelor of Business Management & Bachelor of Laws) and BEc-LL.B (Bachelor of Economics and Bachelor of Laws) KUSOL offers a wide variety of scholarships. In-house employment opportunity for Meritorious Graduates (Applicable for 2023 fall intake). 20% of the total approved seats [10% for foreign students, and the rest to maintain inclusion policy] are reserved in each program.
Highlight of Courses
Creates a new generation of modern lawyers who are not only trained in law and legal practice but also possess essential knowledge of business management or economics.
KUSOL graduates will professionally work in the justice sector, international organizations, and civil society institutions with a strong blend of business management and/or economics skills.
Eligibility for Admission
Nepali and non-Nepali nationals who have completed a 10+2 or intermediate level of study program of at least two-year duration in any discipline, with a minimum of 50 percent aggregate or CGPA 2.0 out of 4.0 from universities/boards recognized by Kathmandu University may apply.
Candidates waiting for +2 exam results can also apply!!
Submission of Applications
Aspiring candidates are required to fill out the online application form available on the KU website (http://bitly/kusolfal123).
Applicants must deposit an application fee of NRs. 2000/- (non-refundable and non-transferable) to Nabil Bank Limited A/C no.: 04201017500994, AC Name: KU-School of Law.
Submit copies of academic certificates/transcripts, citizenship, and photographs as mentioned in the application form within the deadline.
Application Deadline: 15 August 2023 [Shrawan 30, 2080]
For more information about KUSOL's programs and admission details: KATHMANDU UNIVERSITY SCHOOL OF LAW (KUSOL)
Dhulikhel, Kavre, Nepal +977-11-490735
Email: [email protected]
Website: www.sol.ku.edu.np
Admission Open