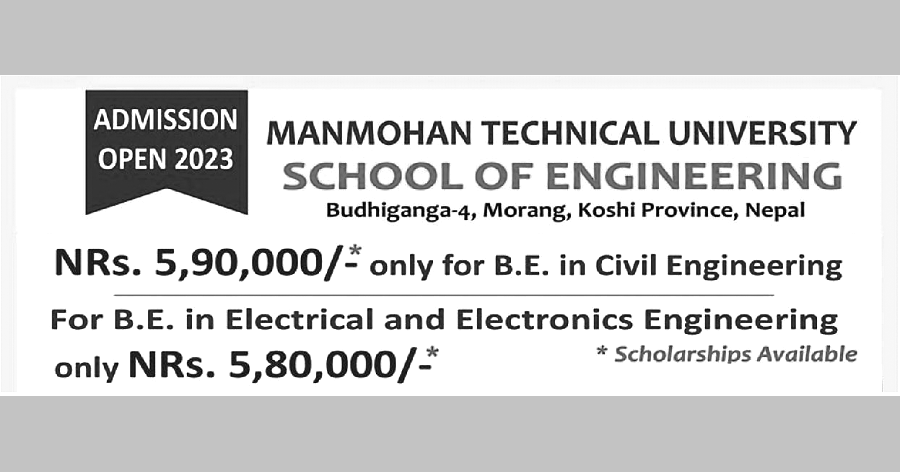 BE (Civil) and BE EEE Admission Open at Manmohan Technical University School of Engineering
Manmohan Technical University School of Engineering, located in Budhiganga-4, Morang, Koshi Province, is proud to announce that admissions are now open. We are the first technical university in Nepal, setting benchmarks for engineering education in the region.
Affordable Tuition Fees & Scholarships
B.E. in Civil Engineering: Available at just NRs. 5,90,000.
B.E. in Electrical and Electronics Engineering: Priced at NRs. 5180,000.
Scholarships: We believe in equal opportunities for all, which is why scholarships are available to deserving candidates.
Extended Application Deadline
You now have until 2080 Ashoj 8 to complete your application. Don't miss out on this golden opportunity!
Why Choose Manmohan Technical University School of Engineering?
Curriculum That Works for You
Practical and Project-Based Learning: Our curriculum is designed to give you hands-on experience and real-world applications of engineering principles.
World-Class Facilities
State-of-the-Art Labs and Workshops: Access to modern labs and workshops that are well-equipped for research and development.
Excellent Academic and Research Environment: Our congenial setting offers an ideal backdrop for your academic and research pursuits.
Fair and Timely Evaluations
Balanced Internal and Final Marking System: Theory exams have a 50:50 internal and final marks ratio, while practical exams have a 60:40 ratio.
Quick Exam Results: Get your exam results within a month, helping you to focus on your next goals faster.
Stay Connected
For more information, visit our official website www.mtu.edu.np, or contact us at 021-590691, 021-590694.
Admission Open