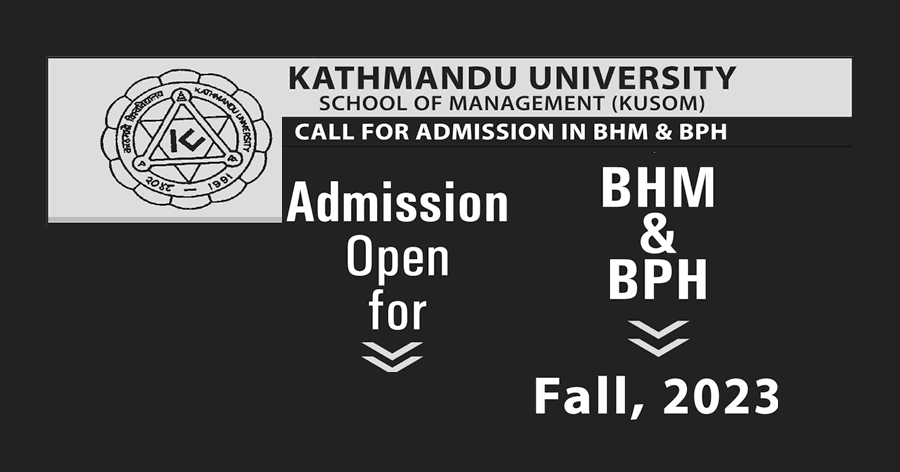 KATHMANDU UNIVERSITY, SCHOOL OF MANAGEMENT (KUSOM) CALL FOR ADMISSION IN BHM & BPH
Kathmandu University School of Management (KUSOM) is pleased to announce the opening of Bachelor in Hospitality Management (BHM) and Bachelor in Professional Hospitality (BPH) admission for Fall, 2023.
Eligibility: Nepali or non-Nepali national with 10+2 or intermediate or equivalent level education of at least two-year duration in any discipline with minimum of 40 percent in aggregate or 1.6 CGPA on the Scale of 4.0 from a university/board recognized by Kathmandu University. OR, GCE Advanced Level students should have passed minimum three subjects in A Level and one General Paper in AS Level with marks/grades requirements as mentioned above. OR, IB Level students should have passed all 6 courses with minimum 4 in each and have at least 28 marks in aggregate.
Last Date: Sunday, 24th September,2023
For more information, visit:
Bachelor in Hospitality Management (BHM) Colleges:
Little Angels' College of Management (Hattiban, Lalitpur) Contact: 9851322721, 9801858148
NATHM, Bardibas (Bardibas,Mahottari) Contact: 9841267639, 9860711710, 044-550146
Nepal College of Management (Dhobighat, Lalitpur) Contact: 9851179526, 9808484014
Bachelor in Professional Hospitality (BPH ) Colleges:
Aspire College (Malaya Road, Biratnagar) Contact: 021435170, 9842038555
GATE College (Mandikhatar, Kathmandu) Contact: 9801236457, 9802323493, 01-4650176
For more information visit KUSOM website: https://kusom.edu.np/
Admission Open
Notice