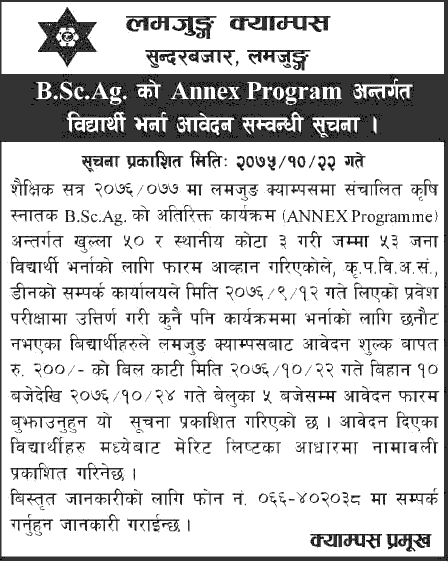 B.Sc.Ag. Admission Open at Lamjung Campus
Lamjung Campus, Sundarbazar, Lamjung
Academic Session 2076/077 Graduate of Agricultural Operations at Lamjung Campus B.Sc.Ag. As per the Annex Programs Admission open for 53 Qutotas (50 for open and 3 for Local quotas), the Institute of Agriculture and Animal Science (IAAS), Dean's Liaison Office, passed the entrance exam on 20/09/12. Students who have not opted for the application fees Rs. 200 from the Lamjung Campus.
This notice has been published for submission of application form with Rs.200, from 10 am on 2076/10/22 till 5 pm on 2076/10/24. The list will be published on the basis of the merit list from the students who have applied.
For details call phone no. Contact us on 066-402036.
Notice Published Date: 2076/10/22