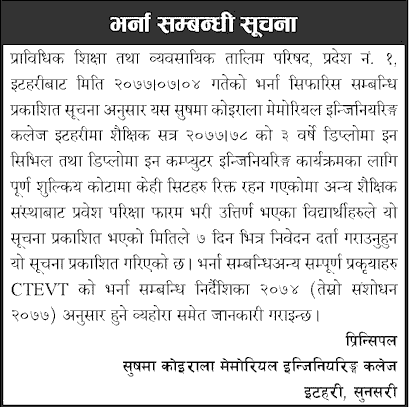 Diploma in Civil Engineering, Diploma in Computer Engineering at Sushma Koirala Memorial Engineering College:
According to the notice published by the Council of Technical Education and Vocational Training, Province No. 1, Itahari on 2077-07-04 regarding the admission recommendation. Sushma Koirala Memorial Engineering College, Itahari for the 3-year Diploma in Civil and Diploma in Computer Engineering program of the academic session 2077/78, vacant few seats vacant in the full fee paying quota.
Students who have passed the entrance examination form from other educational institutions should register their application within 7 days from the date of publication of this notice. All other procedures related to recruitment are also informed as per CTEVT Recruitment Directive 2074 (Third Amendment 2077).
Course Details:
Diploma in Civil Engineering
Diploma in Computer Engineering
Contact Details:
Sushma Koirala Memorial Engineering College
Itahari, Sunsari
Contact Number: +977-25-582712