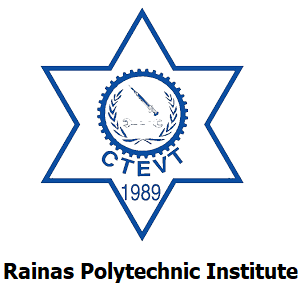 Diploma in Forestry and Agriculture (Plant Science) Admission Open at Rainas Polytechnic Institute: Council for Technical Education and Vocational Training (CTEVT), Rainas Polytechnic Institute, Rainas Municipality- 8, Tarkughat, Lamjung Notice regarding application for admission to vacant quota
Some seats are vacant in the Diploma in Forestry and Agriculture (Plant Science) program conducted in the current academic session 2079/2080 at Rainas Polytechnic Institute, Rainas-8, Lamjung. In other Technical/Polytechnic Institutes, students who have filled out the application form for any entrance exam and any program of 3-year certificate and diploma level, but are in the optional and pass list, are requested to submit their application.
Documents to be submitted along with the application:
a) Copy of SLC/SEE/TSLC mark sheet and character certificate.
b) Citizenship or birth certificate, copy of admit card and 2 copies of recent passport size photo
c) Certified copy of recommendation and result of the concerned educational institution.
d) First-year admission fee for Diploma in Forestry is Rs. 21,700 and Rs.14,750 for the first semester for Agriculture (Plant Science) in Rainas Polytechnic Institute's Rastriya Banijya Bank Veseyshahr Current Account Number 3040100006662001 bank voucher.
e) Application and other documents can be sent through the school's email: [email protected]. For other information, can be contacted at this school's mobile no. 9856012497, 9856012489, and 9843778742.
Note:
1) Students who have not taken the entrance exam and have obtained an overall GPA of 1.6 in SLC pass or SEE can also fill out the entrance exam form.
2) The entrance exam application form and other documents can be scanned and sent through email to [email protected]
First published date: Sunday 2079-07-27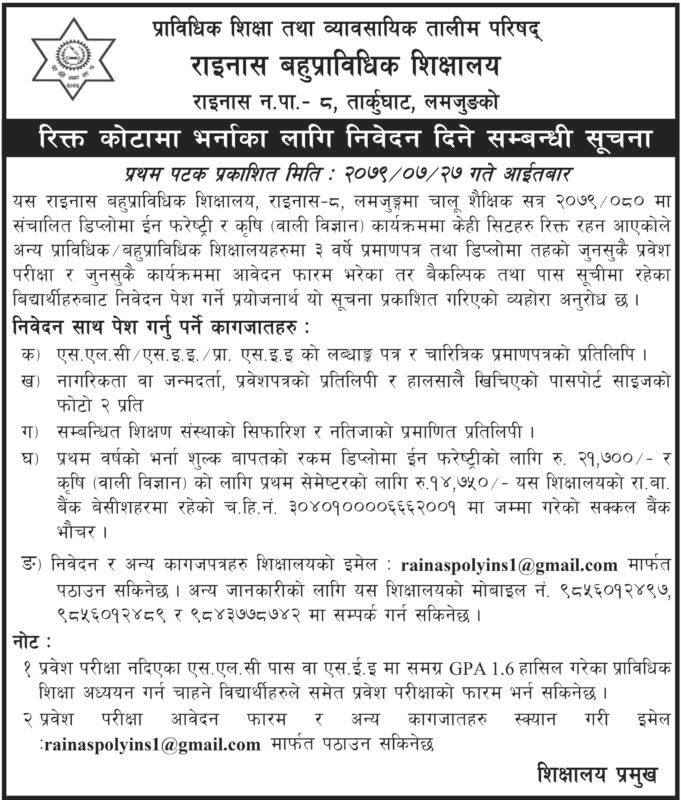 Diploma Level
Admission Open
CTEVT