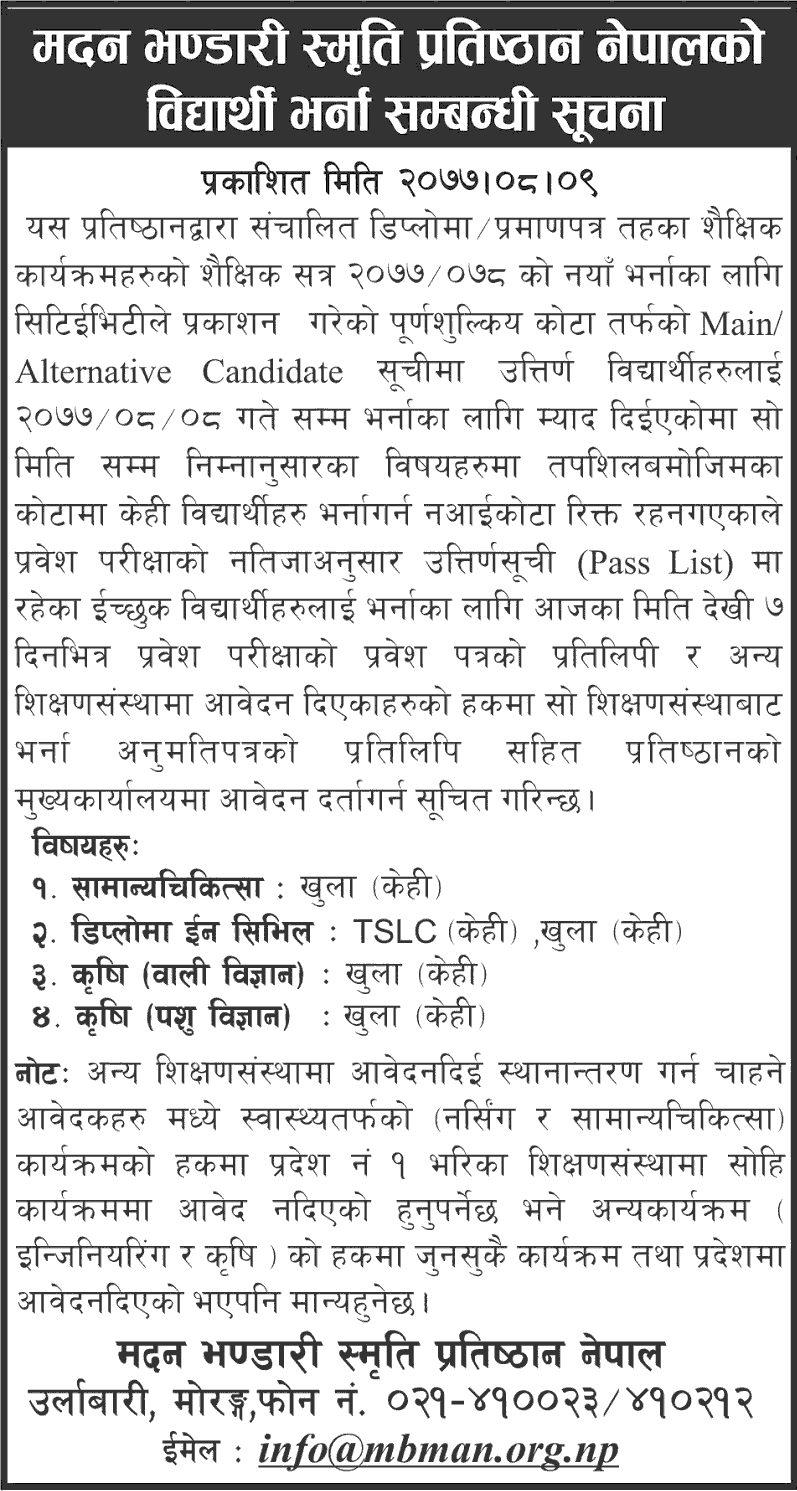 HA, Diploma in Civil Engineering, and Diploma in Agriculture Admission at Madan Bhandari Memorial Academy Nepal:
Students who have passed the list of Main / Alternative Candidates for the full fee quota published by CTEVT for the new admission of the academic session 2077/0768 of the diploma/certificate level educational programs run by Madan Bhandari Smriti Academy Nepal have been given a deadline for admission till 2077-08-08. As of that date, there is no vacancy to enroll some students in the following quotas in the following subjects; To the aspiring students in the Pass List as per the results of the entrance examination
For admission within 7 days from today, a copy of the entrance examination letter and in case of those who have applied to other educational institutions, along with a copy of the admission permit from that educational institution, are informed to register the application at the head office of the academy.
| | | |
| --- | --- | --- |
| Courses | Open Quota | TSLC Quota |
| General Medicine (HA) | Few | - |
| Diploma in Civil Engineering | Few | Few |
| Diploma in Agriculture (science) | Few | - |
| Diploma in Agriculture (Animal Science) | Few | - |
Note: Among the applicants who want to apply and transfer to other educational institutions, in the case of health (nursing and general medicine) programs, the application should not have been made in the same program in all the educational institutions of Province No. 1 and in case of other programs (engineering and agriculture).
Contact Details:
Madan Bhandari Memorial Academy Nepal (MBMAN)
Urlabari, Morang, Phone no. 021-410023,021-410212
Email: [email protected]
Published 2077-08-09