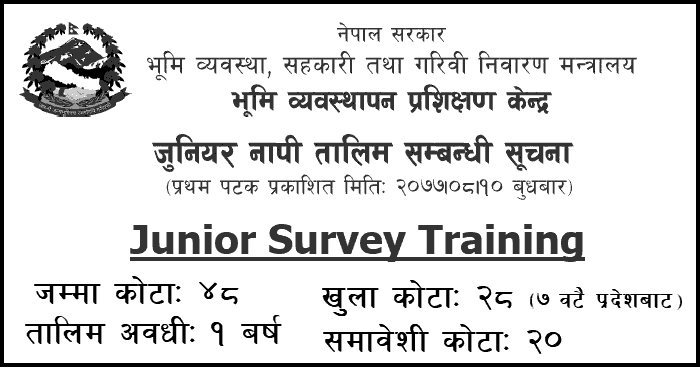 Junior Survey (Napi) Training from Land Management Training Center (LMTC):
Government of Nepal, Ministry of Land Management, Cooperatives and Poverty Alleviation, Land Management Training Center, Dhulikhel, Kavrepalanchok Notice regarding Junior Survey Training
Since the Land Management Training Center(LMTC) has to select and operate trainees on the basis of open competition in the one-year Junior Survey Training (Open Group) to be conducted in FY 077/078; The following applications are invited from the following qualified Nepali citizens.
1) Required number of trainees: - 48
A) Towards open competition: - 28 candidates (at the rate of 4 candidates from each province (7x4 = 28)
B) Towards inclusive group: - 20 (all provinces in one go)
| | |
| --- | --- |
| Inclusive Group | Required Seats |
| Women | 6 |
| Adivasi Janajati | 6 |
| Madhesi | 4 |
| Dalit | 2 |
| Pichhadiya ko Kshetra | 2 |
| Total Seats | 20 |
2) Minimum qualification required:
A) Must have completed 18 years and not reached 24 years by the last date of application.
B) Achieved 50-50% marks in Physics and Mathematics including 200 integer Mathematics subjects and 50% marks overall, in Or letter grading system with minimum C + grade in Mathematics and Physics with a minimum GPA of 2.0 and passed 10 + 2 or equivalent.
3) Documents to be submitted by the candidate along with the application form:
A) Copy of Nepali citizenship certificate,
B) Copy of 10 + 2 educational qualification certificate,
C) A copy of the certificate of equivalence in case of acquiring educational qualification by studying from outside Nepal,
D) Candidates who want to apply from the inclusive group should submit the application form along with the recommendation letter of the concerned commission or local level
E) 3 passport size photos,
F) Voucher submitted for examination fee
4) Where to get and submit application form: - (1) Napi Office Biratnagar (Province 1), (2) Napi Office Janakpur (Province 2), (3) Land Management Training Center, Dhulikhel (Bagmati Province), (4) NapiOffice, Pokhara (Gandaki Pradesh), (5) Napi Office, Butbal (Province 5), (6) Napi Office, Surkhet (Karnali Province) and (7) Napi Office, Dhangadhi (Sudurpashchim Province).
5) Application Form and Examination Fee: - Rs.400.- (four hundred in axes) and Rs.200.- (two hundred in axes) for each group on behalf of the inclusive group.
6) Application Form Fee Submitting Bank Details: In the name of Land Management Training Center, Rastriya Banijya Bank, Dhulikhel Branch (Office Code No. 336042601, Bank Account No. 1000200010000, Revenue Title No. 14224 (Examination Fee)) Examination fee can be paid from the bank. The fee should be submitted along with the original voucher application form.
7) Last date for submission of application form: - The application form can be submitted within 21 days from the date of publication of notice in Gorkhapatra and thereafter for 7 days by paying a double fee. In case of leave on the last day, it can be submitted on the next day's office time. Dover time will not be counted for educational qualifications and other documents.
8) The LMTC may cancel the application form at any time if the required minimum qualification and other documents are not proved.
9) No action will be taken on the application form after the stipulated date.
10) Admission letter will be provided after the application form is approved by this center. At the same time, the examination center will be published on the website of this center.
11) Trainee Selection Process: - Written Examination. The written examination will be taken on the basis of an Objective Question Paper.
12) Date and place of examination: - Date 2077-09-15 at 11 am on Saturday, at the place where the application form is submitted or as published on the website.
13) If further information is required, you can contact the Land Management Training Center, Kavre on 011-415055 or by contacting the office or from the website of the Center (www.lmtc.gov.np).
14) Application forms can also be downloaded from the website of the curriculum center.
15) The final result of the selection based on the qualification order of the written examination will be published on the website of the Center.
Contact Details:
Land Management Training Center (LMTC), Dhulikhel, Kavrepalanchok
Telephone No: 011-415055
Fax No: 011-415078
(First published date: 2077-08-10 Wednesday)