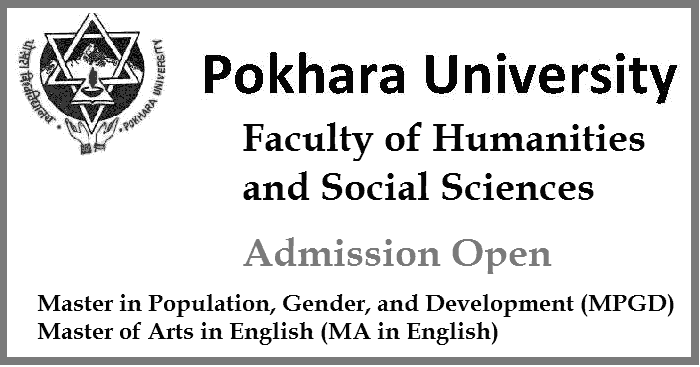 Pokhara University's Faculty of Humanities and Social Sciences is now accepting applications for two of its highly esteemed Master's degree programs, the Master of Population, Gender and Development (MPGD) and the Master of Arts in English (MA in English).
ELIGIBILITY
Students who hold a Bachelor's degree or equivalent in any discipline are eligible to apply for either of these programs.
IMPORTANT DATES
• Last date to submit application forms: April 6, 2023 (Chaitra 23, 2079)
• Entrance Examinations: April 7, 2023 (Chaitra 24, 2079)
APPLICATION PROCEDURE
Interested candidates can obtain application forms and further details from the following locations:
• School of Development and Social Engineering, Pokhara University, Pokhara 30, Kaski. Telephone: 061-504038/504078; Mobile: 98560-61230.
• IACER, Baneshwor, Kathmandu. Telephone: 01-4471915/4467528; Mobile: 9841370444.
• Application forms are also available at www.pu.edu.np.
Admission Open
Pokhara University