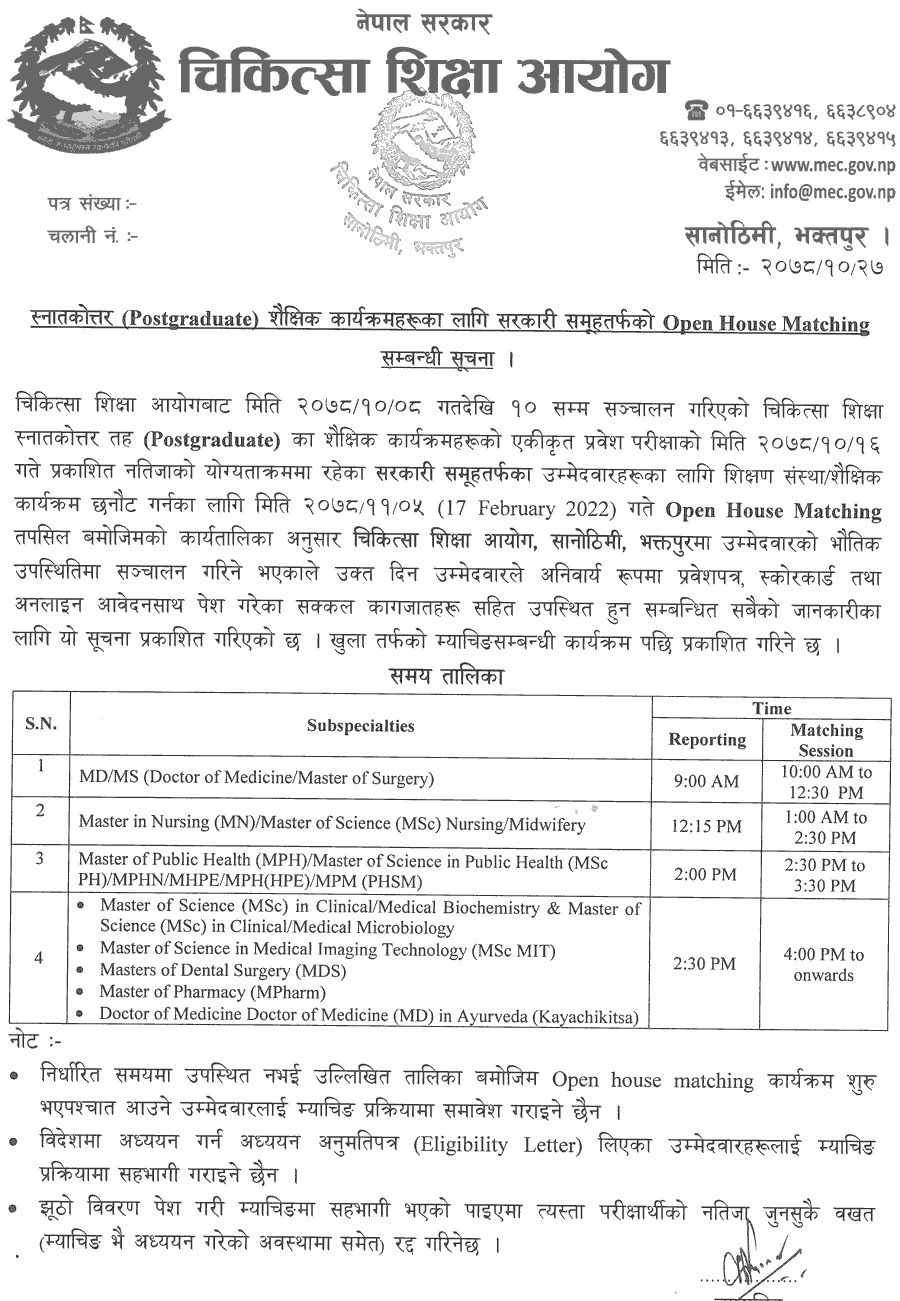 Government of Nepal, Medical Education Commission, Sanothimi, Bhaktapur Notice regarding Open House Matching by Government Group for Postgraduate Educational Programs
To select the educational institution / educational program for the candidates from the government group who are in the merit list of the results of the Common Entrance Examination of the Medical Education Postgraduate Educational Programs conducted by the Medical Education Commission on 2078-10-08 and published on 2078-10-16. For 2078-11-05 / 17th February 2022 Open House Matching will be conducted in the physical presence of the candidate in the Medical Education Commission, Sanothimi, Bhaktapur as per the schedule as per the schedule.
This information has been published for the information of all concerned to be present on that day along with the required documents submitted by the candidate along with the admission card, scorecard and online application.
An open matching program will be published later.
Time Table (Scheduling):
Subspecialties

Time

Reporting

Matching Session

MD/MS (Doctor of Medicine/Master of Surgery)

9:00 AM

10.00 AM to 12:30 PM

Master in Nursing (MN)/Master of Science (MSc) Nursing/Midwifery

12:15 PM

1:00 AM to 2:30 PM

Master of Public Health (MPH)/Master of Science in Public Health (MSc PH)/ MPHN/ MHPE/ MPH(HPE)/ MPM (PHSM)

2:00 PM

2:30 PM to 3:30 PM

Master of Science (MSc) in Clinical/ Medical Biochemistry & Master of Science (MSc) in Clinical/ Medical Microbiology

Master of Science in Medical Imaging Technology (MSc MIT)

Masters of Dental Surgery (MDS)

Master of Pharmacy (MPharm)

Doctor of Medicine Doctor of Medicine (MD) in Ayurveda (Kayachikitsa)

2:30 PM

4:00 PM to Onwards
Note:
Candidates who do not attend the scheduled time will not be included in the matching process after the start of Open House Matching program as per the mentioned schedule.

Candidates who have Eligibility Letter to study abroad will not be allowed to participate in the matching process.

If it is found that they have participated in the match by submitting false details, the time of such examinee (even in case of studying by matching) will be canceled.
Notice
Medical Education Commission (MEC)