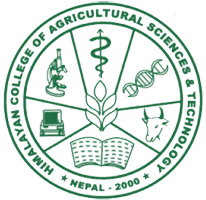 Himalayan College of Agricultural Sciences and Technology (HICAST): Empowering Agricultural Education in Nepal
Located in Kirtipur, Kathmandu, the Himalayan College of Agricultural Sciences and Technology (HICAST) stands as the first public-private partnership in South Asia dedicated exclusively to agricultural and veterinary education. With a rich history spanning over two decades, this esteemed institution has consistently delivered high-quality education, thanks to its skilled and experienced professors.
Affiliated with Purbanchal University, HICAST offers postgraduate degrees to students aspiring to specialize in agricultural and allied sectors. Two prominent programs available for enrollment are MSc Ag. (Agri-Business Mgmt.) and MSc Meat Technology. This college has established a remarkable track record, producing excellent results year after year.
For prospective students seeking admission, HICAST currently has available quotas for these programs. To secure your place, simply scan the provided code at entrance.pufost.edu.np or visit the official website of Purvanchal University. Ensure to complete the registration process and make the regular fee payment by the 16th of Jestha 2080. In case of a delay, double fees will be applicable until the 22nd of Jestha 2080. The application process is exclusively online, offering convenience and ease of access.
To get in touch with HICAST and gather further information, you can contact them directly at 9843499261 or 9840051550. Additionally, their website www.hicast.edu.np provides comprehensive details about the college, courses, faculty, and other relevant information.
HICAST's commitment to empowering agricultural education in Nepal is evident through its dedication to providing quality education and fostering a supportive learning environment. By choosing HICAST, students have the opportunity to enhance their knowledge and skills in the field of agriculture and contribute meaningfully to the nation's agricultural sector.
Important Dates for Admission to Himalayan College of Agricultural Sciences and Technology (HICAST):
Last date for regular fee payment: 16th Jestha 2080
Last date for double fee payment: 22nd Jestha 2080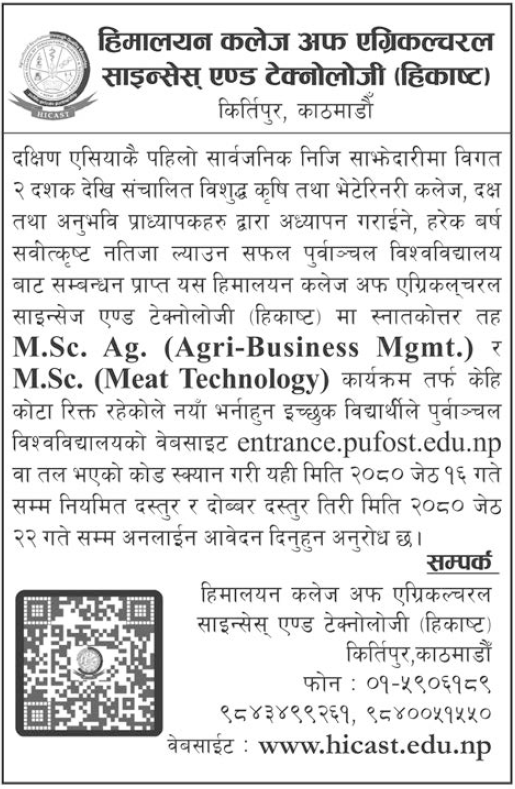 Admission Open