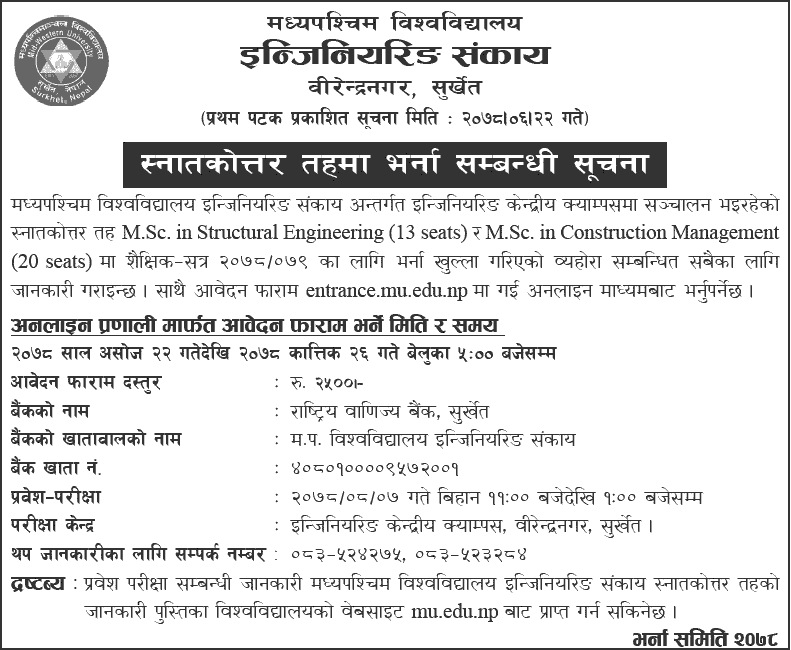 At the Central Campus of Engineering under the Midwestern University Faculty of Engineering, postgraduate level M.Sc. in Structural Engineering (13 seats) and M.Sc. In Construction Management (20 seats) for the academic session, 2078/079 admission open for all concerned.
Also, the application form has to be filled online by going to www.entrance.mu.edu.np. The online form can be filled to participate in the entrance exam from 22nd of Ashoj to 26th of Kartik.
Date and time of filling the application form through the online system: From 22nd Ashoj 2078 to 5:00 pm Kartik 26th 2078
Application Form Fee: Rs. 2500
Bank Name: Rastriya Banijya Bank, Surkhet
Bank Accountant Name: Midwestern University Faculty of Engineering
Bank account no. : 4080100009572001
Entrance Examination: 2078-08-07 from 11:00 am to 1:00 pm
Examination Center: Engineering Central Campus, Birendranagar, Surkhet.
For more information contact numbers: 083-524275, 083-523284
Note: Information regarding the entrance examination can be obtained from the Midwestern University Faculty of Engineering postgraduate level information booklet from the University website www.mu.edu.np.