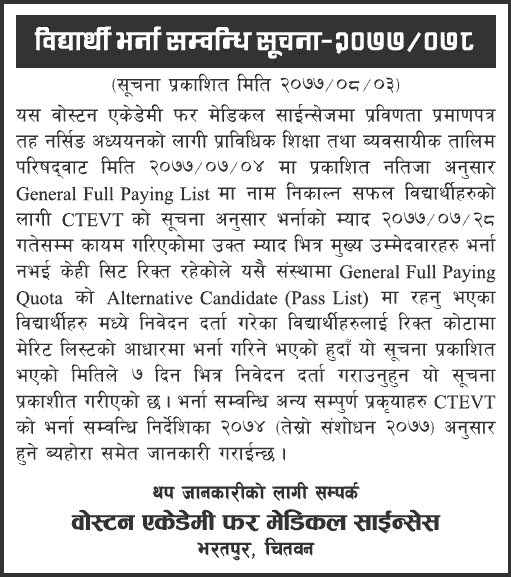 PCL Nursing Admission at Boston Academy for Medical Sciences:
According to the results published by the Council for Technical Education and Vocational Training (CTEVT) on 2077-07-04 for proficiency certificate level nursing (PCL Nursing) studies at Boston Academy for Medical Sciences. As per the notice of CTEVT, the admission deadline for the successful students in General Full Paying has been fixed till 2077-07-28 as some seats are vacant instead of the main candidates being admitted within that period.
Among the students who are Alternative Candidate (Pass List) of General Full Paying Quota in this institution, the students who have registered the application will be admitted in the vacant quota on the basis of merit list.
This notice is published within 7 days from the date of publication of this notice. All other procedures related to recruitment are also informed as per CTEVT Recruitment Directive 2074 (Third Amendment 2077).
Course and Vacant Seats:
| | |
| --- | --- |
| Courses | Available Vacant Seats |
| PCL Nursing | Few |
Contact for more information:
Boston Academy for Medical Sciences, Bharatpur, Chitwan
Phone No. +977-56-521519, +977-56-532922
(notice published on 2077-08-03)