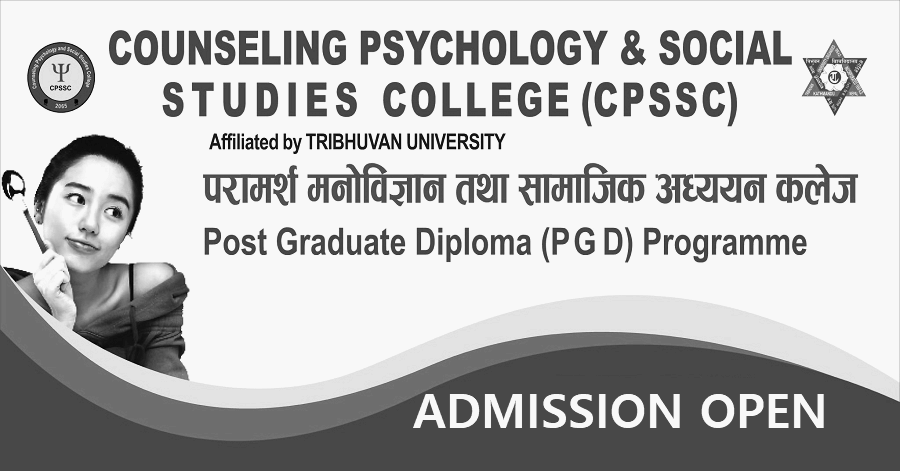 Faculty of Humanities and Social Sciences (FoHSS), Tribhuvan University (Affiliation) Counseling Psychology & Social Studies College (CPSSC), Admissions open for PGD Counseling Psychology
PGD (Post Graduate Diploma) in Counseling Psychology is a professional diploma program that focuses on the study of human behavior and mental health. The program typically covers topics such as psychological assessment, counseling theories and techniques, and the diagnosis and treatment of mental health disorders. The program also includes supervised practical training, where students can apply their knowledge and skills in a real-world setting. Graduates of the program are equipped to work as counseling psychologists in a variety of settings, such as hospitals, schools, and private practices.
PGD including Psychology, Counseling, and Psychotherapy will be taught and skills will be taught and compulsory training will be given every month by 5 days of college training experts. Each student's counseling is supervised by a trained supervisor and there is a provision for psychosocial and mental health, disease research, and publication. It is also informed that PGD Counseling Psychology will be for two semesters.
Students enrolled in academic session 2023 should deposit Rs.1500 in Nepal Bank Limited, Dean's Office account no. 04500100099045000001, the online form can be filled out at https://etrance.tufohss.edu.np which is attached to the website www.tufohss.edu.np.
Last date for filling out the form: Magh 10 till 12 midnight.
The form can be filled up to 17th of Magh for a late fee.
For more information contact: Counseling Psychology & Social Studies College (CPSSC)
Contact Details:
Counseling Psychology & Social Studies College (CPSSC)
Buddhanagar, Naya Baneshwor
Phone No: 01-5905385, 9849422222
Admission Open