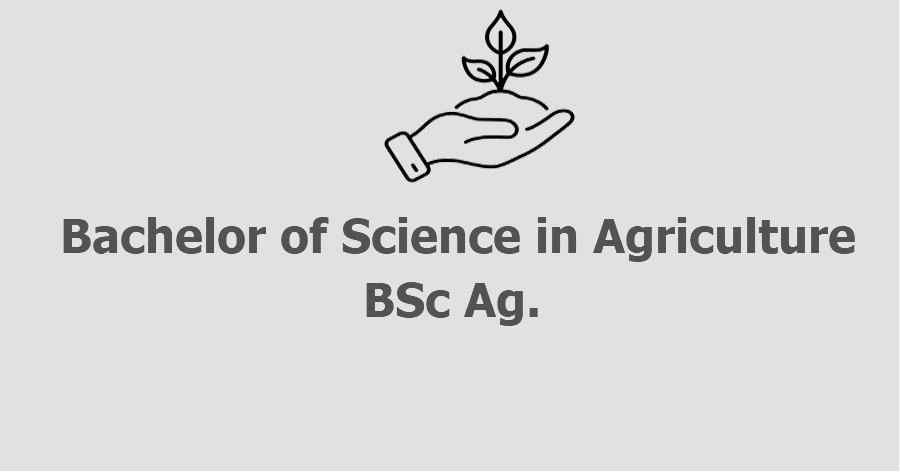 BSc Ag. Course: Understanding Agriculture Education
BSc Ag. (Bachelor of Science in Agriculture) / BSc Agriculture is an undergraduate degree program that focuses on providing comprehensive knowledge and practical skills in the field of agriculture. It is designed to equip students with the necessary expertise to contribute to the development and sustainability of the agricultural sector.
BSc Ag. Course Highlights: Key Features of the Program
Practical Approach: BSc Ag. emphasizes hands-on learning, offering practical training in various aspects of agriculture, including crop production, soil management, livestock farming, agricultural economics, and agricultural engineering.
Interdisciplinary Curriculum: The course combines subjects from various disciplines such as biology, chemistry, agronomy, horticulture, plant pathology, and animal husbandry to provide students with a holistic understanding of agriculture.
Industry-Relevant Skills: Students gain skills in areas such as farm management, crop cultivation techniques, pest control, irrigation methods, and agricultural research, which are highly valued in the agriculture industry.
Field Visits and Internships: BSc Ag. programs often include field visits to farms, agricultural research centers, and agro-industries, enabling students to gain practical exposure and understand the real-world challenges faced by the agriculture sector.
Research Opportunities: Students are encouraged to undertake research projects, allowing them to explore innovative solutions to agricultural problems and contribute to the advancement of the field.
Career Guidance: Many BSc Ag. programs provide career counseling and placement assistance, helping students explore job opportunities and make informed career choices in the agriculture sector.
Why Choose BSc Ag.? Advantages of Pursuing a BSc Ag. Degree
Vast Employment Opportunities: The agriculture sector offers a wide range of career options, and a BSc Ag. degree opens doors to various job prospects in areas such as agricultural research, farming, agribusiness, food processing, agricultural consultancy, and agricultural education.
Contribution to Food Security: With the world's growing population, there is an increasing need for sustainable food production. By studying BSc Ag., individuals can actively contribute to ensuring food security and addressing global challenges related to agriculture.
Technological Advancements: Agriculture is embracing technological advancements such as precision farming, hydroponics, and genetic engineering. Pursuing BSc Ag. equips students with knowledge about these technologies, preparing them for the future of agriculture.
Entrepreneurial Opportunities: BSc Ag. graduates can explore entrepreneurship in the agriculture sector by starting their own farming ventures, agricultural consultancy firms, or agribusinesses, leveraging their knowledge and skills.
Sustainable Development: BSc Ag. promotes sustainable agricultural practices, ecological conservation, and the adoption of environmentally friendly farming methods, contributing to sustainable development and a greener future.
List of Popular BSc Ag. Specializations
Agronomy
Horticulture
Plant Pathology
Agricultural Economics
Animal Husbandry
Agricultural Engineering
Soil Science
Agricultural Extension
Crop Physiology
Entomology
Learning Outcomes: Skills and Knowledge Gained through BSc Ag.
Comprehensive understanding of agricultural principles, practices, and techniques.
Proficiency in crop production, soil management, plant protection, and animal husbandry.
Knowledge of agricultural economics, farm management, and marketing strategies.
Ability to apply scientific methods and research skills to solve agricultural problems.
Competence in the use of modern agricultural machinery and technologies.
Familiarity with sustainable agriculture practices and environmental conservation.
Effective communication and leadership skills for collaborating with diverse stakeholders in the agriculture sector.
Courses Outlines: Key Subjects Covered in BSc Ag.
Introduction to Agriculture
Crop Production and Management
Soil Science and Soil Management
Horticulture and Floriculture
Plant Pathology and Entomology
Animal Husbandry and Veterinary Sciences
Agricultural Economics and Marketing
Agricultural Engineering and Farm Machinery
Agricultural Extension and Rural Development
Agricultural Biotechnology and Genetics
Types of BSc Ag. Course: Full-Time, Part-Time, and Distance Learning
Full-Time BSc Ag.: This is a regular, on-campus program where students attend classes and practical sessions on a daily basis.
Part-Time BSc Ag.: Designed for working professionals or individuals who cannot pursue full-time education, this program allows students to attend classes on weekends or during evenings.
Distance Learning BSc Ag.: Also known as correspondence or online mode, this program enables students to study at their own pace through virtual classrooms, online lectures, and study materials.
Required Skillset for BSc Ag.: Traits Beneficial for Agricultural Studies
Passion for Agriculture: A genuine interest in agriculture and a passion to contribute to the sector's development are essential.
Scientific Aptitude: Proficiency in science subjects such as biology, chemistry, and mathematics is crucial for understanding agricultural principles and conducting research.
Problem-Solving Skills: The ability to analyze agricultural challenges, think critically, and develop innovative solutions is valuable in this field.
Practical Orientation: Being hands-on and having practical skills to implement agricultural techniques and operate machinery is advantageous.
Communication Skills: Effective communication is vital for collaborating with fellow farmers, researchers, and industry professionals, as well as for conveying agricultural knowledge to others.
Adaptability and Resilience: Agriculture often involves dealing with unpredictable circumstances, weather changes, and market fluctuations. Being adaptable and resilient helps overcome challenges.
Business Acumen: Basic knowledge of business principles and marketing strategies is beneficial for those interested in agribusiness or entrepreneurship.
BSc Ag. Career Options and Job Prospects: Opportunities in the Agriculture Sector
Agricultural Officer
Crop Consultant
Horticulturist
Farm Manager
Agricultural Research Scientist
Agricultural Economist
Seed Technologist
Food Processing Technologist
Livestock Inspector
Agriculture Extension Officer
Agribusiness Manager
Rural Development Officer
Agricultural Educationist
Agricultural Consultant
Plant Breeder
Agronomist
BSc Ag. Eligibility Criteria: Qualifications Required to Pursue the Program
Educational Qualification: Candidates should have completed their higher secondary education (10+2) from a recognized educational board or equivalent with a background in science stream (biology, chemistry, and mathematics/physics/agriculture).
Minimum Marks: Generally, a minimum aggregate score of 50% is required in the qualifying examination. However, the specific eligibility criteria may vary depending on the university or institution.
Entrance Exams: Some universities or colleges may conduct entrance exams to shortlist candidates for admission to the BSc Ag. program.
Courses After BSc Ag.: Further Education Options for BSc Ag. Graduates
MSc in Agriculture: Pursuing a master's degree in agriculture allows students to specialize in specific areas of agriculture and gain advanced knowledge in their chosen field.
MBA in Agribusiness: An MBA in Agribusiness combines business management skills with agriculture knowledge, preparing graduates for leadership roles in the agricultural industry.
PhD in Agriculture: Those interested in research and academic careers can opt for a doctoral program in agriculture, enabling them to contribute to agricultural advancements and education.
FAQs about BSc Ag. (Bachelor of Science in Agriculture)
What is the duration of the BSc Ag. course?

The duration of the BSc Ag. course is typically three to four years, depending on the university or institution.

Is the BSc Ag. course available through distance learning?

Yes, some universities offer BSc Ag. programs through distance learning or online mode, allowing flexibility for students who cannot pursue full-time education.

Can I pursue BSc Ag. after completing my 12th grade in commerce?

Typically, BSc Ag. requires a science background with subjects such as biology, chemistry, and mathematics. However, some institutions may consider candidates with a commerce background on a case-by-case basis.

What are the job prospects after completing BSc Ag.?

BSc Ag. opens up diverse career opportunities in agriculture, including roles such as agricultural officer, farm manager, agricultural scientist, agronomist, and agricultural consultant.

Are there any entrance exams for BSc Ag. admissions?

Some universities or colleges may conduct entrance exams specific to BSc Ag. admissions. The exams may assess the candidate's knowledge in subjects related to agriculture and science.

Can I start my own farming business after completing BSc Ag.?

Yes, BSc Ag. equips graduates with the necessary knowledge and skills to start their own farming ventures or agricultural businesses. Entrepreneurship in the agriculture sector is a viable option for BSc Ag. graduates.
Career Options