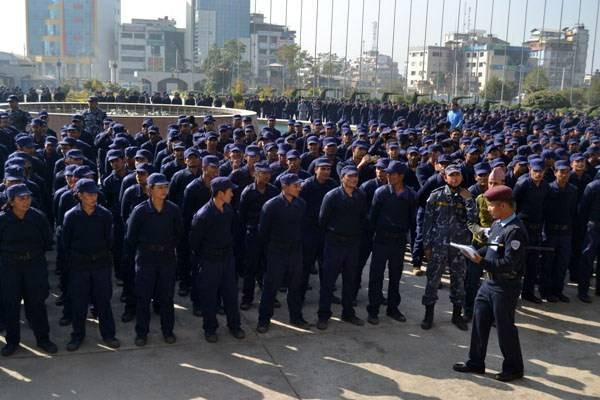 It has been proposed to recruit 120,000 Myadi Police for the House of Representatives and provincial Assembly elections. The police head office has submitted a proposal to the Ministry of Home Affairs to recruit Myadi for the security of the election scheduled for 2078 Mangshir 4 (November 18, 2022). It is also proposed to keep the tenure of Myadi Police for 40 days.
Inspector General of Police Dheeraj Pratap Singh said that it was necessary to recruit more Myadi policemen than in the last local elections and accordingly the number has been determined and submitted to the Ministry of Home Affairs.
In a press conference held at the police headquarters on Thursday, he said, "Since the ballot box for the election of the House of Representatives and the Provincial Assembly members will be separate, it seems that the number of Myadis should be increased to protect them."
In the upcoming election, the security agencies are working on their action plans to deploy 2.5 lakh security personnel of the army, police, and armed police.
More than 71,000 Army, around 62,000 police, 32,000 Armed Police Force (APF), and 100,000 Myadi police were deployed to protect the local elections held on May 13.
Based on the monthly basic salary of the jawan of 22,660 rupees, a lump sum of 30,240 rupees for Myadi for 40 days, 6,000 rupees for a clothing allowance, 7,200 rupees for ration allowance, and 1,000 rupees for transport fare. The facility was determined. The police have proposed to recruit Myadi on the basis of this in the next election as well.
It is mentioned that since the salary of all national service employees has increased by 15 percent from Shrawan 1, Myadi's salary should also be fixed accordingly. According to the increase in salary, the monthly basic salary of the jawan has been increased from 3 thousand 399 rupees to 26 thousand 59 rupees. According to the proposed number, if Myadi is enrolled, more than 3.12 billion rupees should be spent on one month's salary for 120 thousand Myadi.
Adding ration allowance, clothing facilities, etc., the cost of 40 days of Myadi alone will be around 6 billion rupees.
According to the Ministry of Home Affairs, 100,000 Myadi police were recruited in the last local election, 98,000 in the 2074 general election, 75,000 in the same year's local election, and 45,000 in the second Constituent Assembly election in November 2070. Meanwhile, Nepal Police and Armed Forces have formed election cells from the center to the district level for election security.