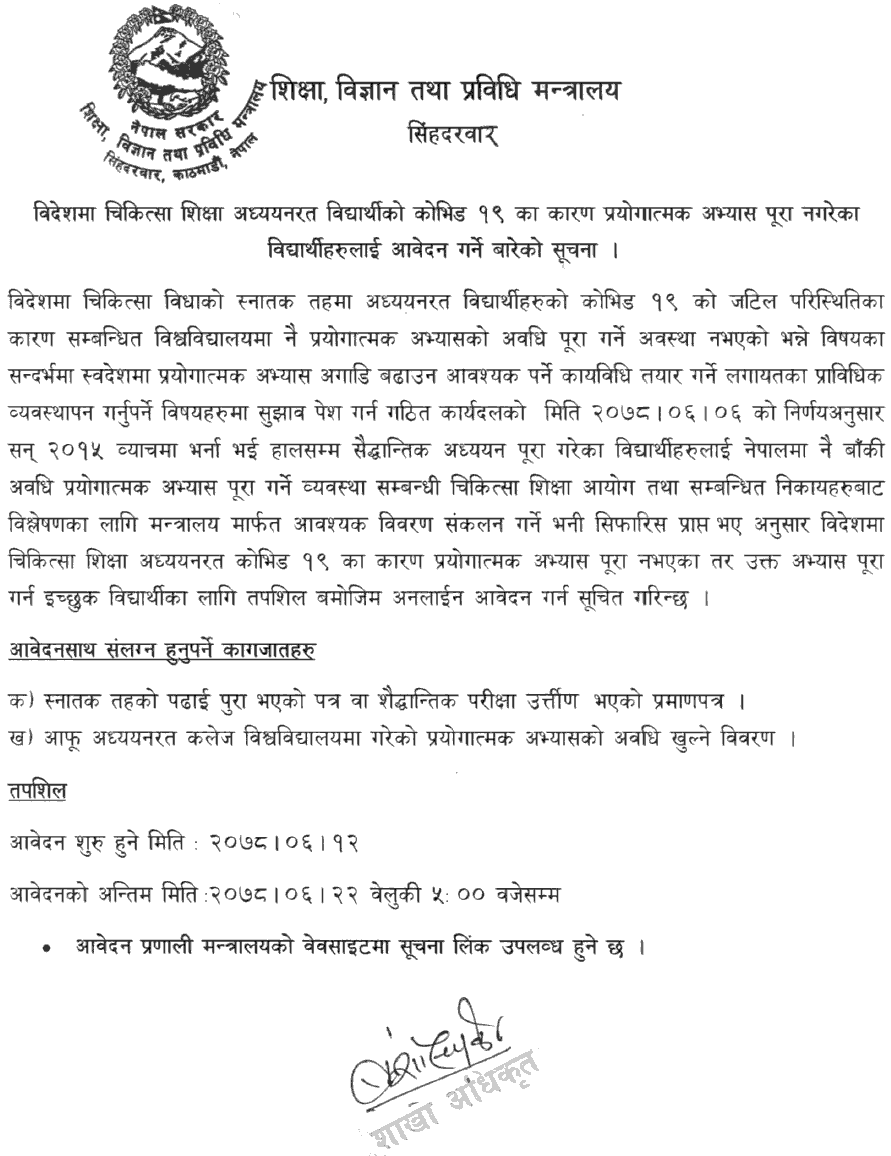 The Ministry of Education has called for applications from students who have not been able to complete their internship due to COVID-19 after studying medical education abroad. The ministry has called for applications targeting students who went to study in China in the 2015 batch.
Students from 2014 to 2017 have not been able to complete the internship. Hundreds of students had come to Nepal after stopping their studies due to the global corona epidemic.
The educational future is in doubt as they have not been able to return to China. Students have not been able to reach the educational institution where they studied due to China's ban on movement. The Ministry of Education has stated that the application has been demanded to allow the students who are yet to complete the internship in the hospital. However, the number of students remaining to complete the internship is not certain.
Earlier, the Nepal Medical Council has started the process of internship in Nepal for 165 batch students who returned from China in 2014. Education Secretary Ram Prasad Thapaliya informed that applications were sought from the students of the next batch. After receiving the application, we are ready to investigate and make arrangements to complete the internship if there is only one left.
Students returning from China have been protesting at the Medical Council daily demanding the completion of their studies. The students have started protesting demanding to return to their respective educational institutions abroad and complete their internship in Nepal. Most of the universities in China have suggested the students complete the internship in Nepal.
The government has taken the process forward accordingly. A meeting of stakeholders chaired by Chief Secretary Shankar Das Bairagi has decided to solicit applications from 2015 batch students. The remaining students can apply till September 8 to complete the internship, according to a notice issued by the ministry.
Earlier, a working group comprising experts led by Dr. Dilip Sharma, Director of the Medical Education Commission, had suggested that internship permission could be granted in Nepal to those who could not complete the theoretical study and experimental class. Experts suggest that such students be allowed to practice in a hospital under the Ministry of Health in coordination with the Ministry of Health.
According to the Ministry of Education, 846 students have obtained foreign study permits for China in 2015, 1,138 in 2016, 1,822 in 2017, and 2,127 in 2019. Since the Corona epidemic began in late 2019, only 143 students have been allowed to study in China since then.