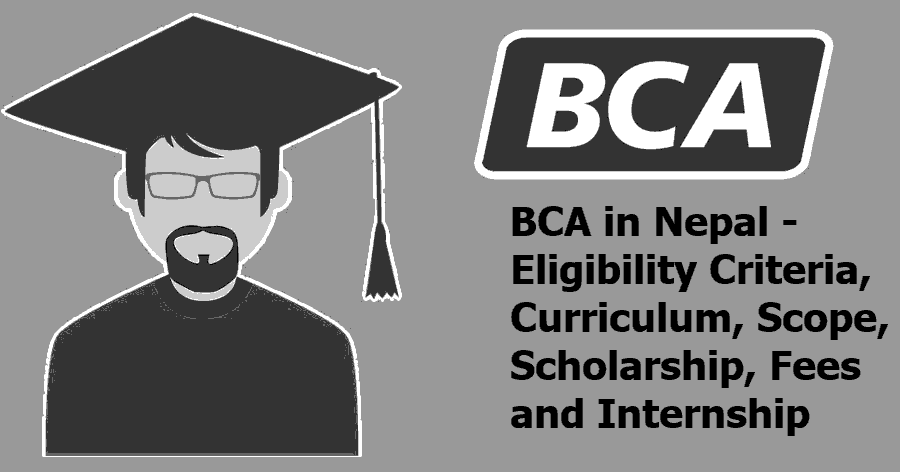 BCA in Nepal - Eligibility, Curriculum, Scope, Scholarship, Fees ad Internship:
Bachelor of Computer Application (BCA) produces the manpower needed to build that application. Under BCA, word processing software, desktop software, Internet browsers, email programs, etc. are taught to create applications. Tribhuvan University (TU) has started this program under the Faculty of Humanities and Social Sciences in 2017/2018.
This 4-year course is taught in 8 semesters. Tribhuvan University (TU) initially allowed six affiliated campuses to conduct the program. There are 35 seats on each campus. Currently, this subject is being taught in 87 colleges affiliated with Tribhuvan University. Although BCA is an IT-related course, Tribhuvan University has included it in the humanities faculty.
Other universities have included them in the Faculty of Science and Technology. Various campuses affiliated with Tribhuvan University, Purbanchal University, and Pokhara University have conducted BCA courses.
The BCA program started at Purbanchal University around 1989 has been started by Tribhuvan University a few years ago. This subject which started about 15/20 years ago in India is considered a good subject in terms of employment.
"BCA is a software-related issue, and as the software market in Nepal is huge, it is an urgent issue right now. It is better for students to read-only after understanding why I study BCA and its scope.
Nowadays, it is difficult to get a job in any field without IT related skills. BCA is a subject that covers both IT and management. Students who have studied this subject have academic qualifications as well as skills. Which can make it easier to find employment.
The curriculum of BCA:
The CSIT and BCA subject funds are almost identical. The core subjects of computer application, elective courses, mathematics and statistics courses, language courses, social science and management courses as well as projects and internships are also included in the course.
There are 126 credit hours in the BCA course. "In BCA, you have to study computer-related subjects for 90 credit hours. In BCA, credit hours, lecture hours, tutorial hours and lab hours are released. This course requires a 30 credit hour internship and project.
Projects are done in the 4th, 6th and 8th semesters and students have to do internships in the 7th semester. Students who have studied this subject in Bachelor will get more than any subject related to Management and IT in Master. Such as MCA, MIT and MBA, and other subjects.
Eligibility Criteria for BCA:
Students who have studied this subject are able to solve computer related problems. Students of any faculty can study this subject. In order to study this subject, students have to bring a grade above 'D' plus in all subjects in class 11 and 12.
Similarly, only students with GPA 2.0 can study this subject. Admission to the respective colleges is available only after passing the entrance examination conducted by Tribhuvan University to study this subject.
Fee for BCA:
There are different fees for studying this subject in Nepal according to the college. Different fees have been fixed in local and private colleges.
It costs Rs 350,000 to study BCA in government campuses, while in private colleges, depending on the services provided by the college, the average tuition is Rs 350,000 to Rs 800,000.
Scholarship for BCA:
The university has arranged scholarships. However, as there is no provision for free tuition for so many students, the campus has been giving scholarships according to its capacity.
As there is a quota of only 35 students, the campus has been giving scholarships depending on the financial condition of the students. Other organizations have also been giving scholarships.
Internship:
As this is an IT-related course, you have to do an internship in any IT company for at least three months. Then project work should be made mandatory. You can learn how to build an application while doing an internship. The company can employ students who do well in internships.
Scope of BCA:
Students who have studied this subject can go in the fields of Computer and Information System Manager, Computer Support Specialist, Computer System Analytics, IT Officer, Network and Computer System Administrator and others.
Similarly, the government sector, construction industry sector, banks, corporate houses can be visited. There are also good opportunities for BCA students to work in Nepal. The demand for BCA students is increasing at home and abroad.
Students who have studied BCA in government and non-government sectors in Nepal can get good opportunities. Similarly, BCA students have a better opportunity than going abroad to work.
Also Read: