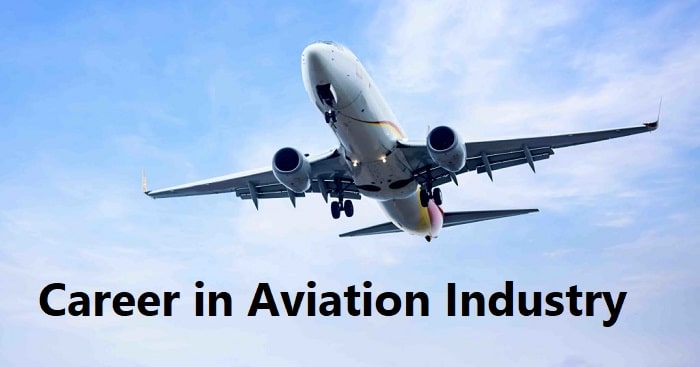 The possibility of making a career in aviation is growing day by day. Where the area of aviation was limited to government air services, now the private sector has also joined the aviation race. The special point is that competitiveness has begun with the arrival of private airlines. There are plenty of employment opportunities in the aviation industry in the coming days.
In the field of aviation, you can make a career in two ways. First, careers can be made in ground staff i.e. Ground Staff Air Traffic Control, AirPort and Aircraft Maintenance, Cargo Handling, Ticketing, Reservations etc. Second, as a Flying Staff, you can start a career as a pilot, air hostess, flight engineer, and navigation.
This increase in air traffic is naturally opening up new dimensions of employment. It is anticipated that in the next three to four years, new aircraft will be added to the country's fleet of fleets, which will result in the recruitment of pilots and cabin crew staff on the larger scale.
Eligibility:
Candidates must have 10+2 (XII) passes to do a course related to Airhostess / Flight Steward. The area is as glamorous as the hard work demands, as well as the feeling of serving it. it can be successful in this field. Communications Skills and Training with Education Qualification is also given importance in this field.
The area of aviation is quite wide, apart from air hostess, pilots, sales, reservation, ticketing, security, cargo, HR, marketing, engineering, and catering are prominent. Generally known for pilots and air hostess, jobs are provided in both the technical and non-technical areas in this area.
Options in Aviation:
Pilot:
If you want to start a career as a pilot, then the minimum age for training should be 18 years. Also, it is necessary to pass the 12th examination with science or mathematics. In the first phase, a flying pilot license is required. After getting this, a pilot license (PPL) or a commercial pilot license (CPL) can be done. PPL is for those who want to fly amateur airplanes, while CPL is essential for those who make a career as a pilot. Many institutions in the country offer training for flying.
Aviation Engineers:
Engineers are an important part of the aviation service because they have a safety issue related to passengers. To become an airline maintenance engineer, a person must have a diploma in Aeronautical Engineering or Aeronautical Maintenance Engineering. Although engineers get lesser salary compared to the pilot, which increases on the basis of their experience and efficiency.
Cabin crew:
The cabin crew of airplanes has their own importance. After all, it is up to you to make your journey easy, convenient and secure. You can also enjoy tourism as well as employment in the airline industry. Air hostess (air hostess) is only part of the cabin crew. To become an air hostess or a flight attendant, it is important for the charming personality to hold on to the rich and English. Along with this, the knowledge of other foreign languages will be counted in your specialty.
This is important because English has become a global language and with the knowledge of a foreign language, you can easily understand that airline or the passengers of that country.
Air hostesses:
The work of air hostess is the main task of keeping the safety and comfort of passengers during the flight. On the other hand, the work of emergency information, location, and other information are available to the passengers during the journey.
Flight Steward:
This is similar to air hostess. Responsibilities are also front. A graduate whose age is less than 26 years of age and is a diploma in tourism, can apply.
Flight Engineers:
They are responsible for checking all the airplane systems before, during and after the flight. An engineering graduate is required in electronics, electrical, aeronautical or computer. Flight Engineer's ground curriculum or aircraft engineer license or commercial pilot licensed person can apply with 10+2 science subjects. For this, the age should not exceed 30 years.
Air Traffic Controllers:
They work as a team in the sky or in the airplane activities on the ground. Degree in radio engineering or electronics is essential. Mathematical qualifications should also be good.
Meteorologist:
For those who are BSc or MSc degree in Meteorology, Physical, Mathematics, Computer, Electronics, and Telecommunication, this is an opportunity to join the aviation field.
Ground staff:
Usually, from 6 months to 1-year Diploma in Airport Ground Service Management Course, Personality Glooming is included in Airport Terminology, Check-in Processor, Airport Security, Cargo Rules, Airport Signals. 10 + 2 is required in any subject with minimum 50% marks in the age of 18-26 years in minimum qualification.
Air Cargo Management:
In the Diploma in International Air Cargo Management Course from 6 months to 9 months, you can avail cargo law, customs rules, warehousing, aircraft limitation and loading capacities, clearing processor, claim rules, insurance and free trade in addition to aviation history and geography. The topics are as follows: For admission in this field, you must have a minimum 10 + 2 educational qualifications and above 18 years of age.
Air Ticketing:
There should be minimum 10 + 2 educational qualifications for entry and above 18 years of age. Courses offered in the Diploma in Air Ticketing and Travel Management, with a minimum duration of 6 months to 9 months, are given training in the travel agency business, world time zone, airport and airline codes, payment modes, foreign currency, passport, and visa etc.
Travel and Tourism:
Even after entering this area, you will get a lot of work in aviation. From the certificate course of 6 months to three-year bachelor in travel and tourism management and postgraduate courses, there are also available, which you can choose on your academic qualification.
Employment opportunities in the Aviation Industry:
There is a great lack of adequate pilot in the aviation industry. Experts say that in the days to come, a larger scale pilot will be needed. On the other hand, the demand for air hostess also remains in this industry. However, this job is considered to be more favorable for girls. Today, the aviation industry is getting more and more opportunities for good personalities and girls speaking English. Candidates with a degree of tourism in the form of Flight Steward are given more value. In this field, the demand for electronic, electrical, mechanical, aeronautical and computer engineers is not less.