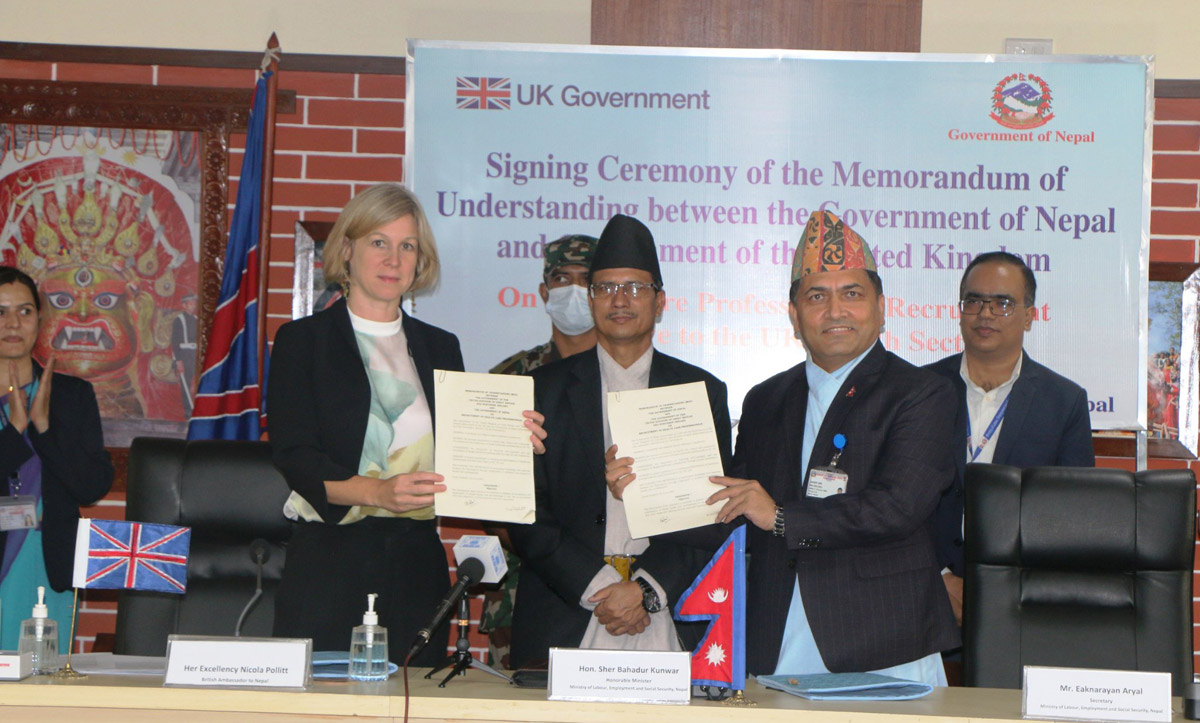 A bilateral labor agreement (MoU) has been signed between the Government of Nepal and the Government of the UK regarding the employment of healthcare workers in the UK. In an event organized event in Kathmandu on Monday, the agreement was signed by Labor Secretary Ek Narayan Aryal on behalf of Nepal and British Ambassador to Nepal Nicola Pollitt on behalf of the British government.
Minister of Labour, Employment, and Social Security Sher Bahadur Kunwar was also present at the signing ceremony of the memorandum of understanding on providing employment to Nepalese health workers (nurses) in the UK health sector.
It is believed that the agreement will create an environment in which Nepali health workers can easily engage in the employment of the UK health sector in a lawful manner and will also help in the development of the human resources involved in the Nepali health sector.
In addition to this, it has been arranged that Nepali health workers will have the same service facilities and rights as British health workers while working in the British health service. According to the ministry, the standards related to the selection, placement, and service facilities of Nepalese health workers are currently under discussion and will be according to the implementation framework (Implementation Protocol).
8 topics are mentioned in the agreement letter (MoU):
1) The selection and placement of health workers will be done in accordance with government (government to government) procedures with the direct involvement of the Department of Foreign Employment of Nepal and the Department of Health and Social Care of the United Kingdom or designated bodies.
2) Arrangements will be made for Nepalese health workers to be employed in the British Health Service (NHS) in a safe, dignified and orderly manner.
3) Taking into consideration the fact that Nepal is included in the Health Worker Support and Safeguard List 2000 of the World Health Organization, the two governments should jointly decide on the number and types of health workers.
4) Since the British government is continuing to contribute to the development and strengthening of the health sector in Nepal, the support will continue in the future for the continuous strengthening and modernization of the health sector.
5) In the first phase as a test, the implementation protocol will be clearly arranged for the work of posting Nepali nurses in the UK.
6) No fee will be charged for the appointment process and the costs of health workers selected for employment will be covered.
7) At the end of the trial phase, the overall health worker appointment process will be evaluated and necessary decisions will be taken regarding additional appointments and extensions.
8) MoU, the appointment process, and other information are available on the Ministry's website https://moless.gov.np/​ and more information can be emailed to [email protected].