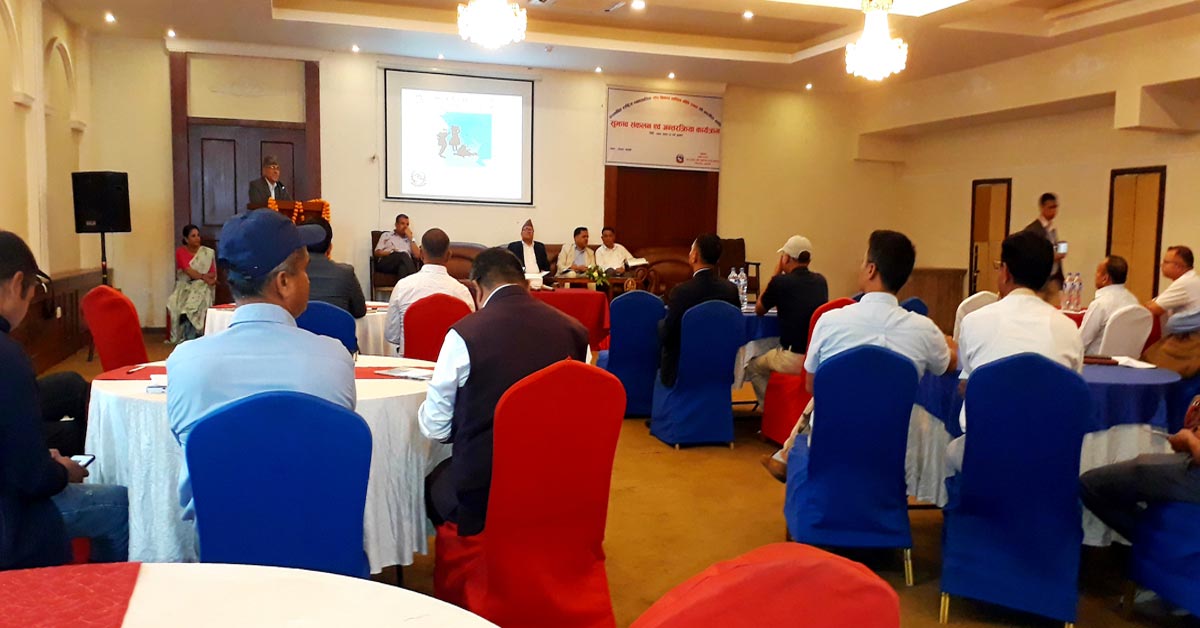 In the discussion about the draft of the National Vocational Skill Development Training Policy-2079 organized by the Ministry of Labour, Employment and Social Security in Pokhara on Wednesday, officials and other stakeholders pointed out that this problem has arisen because the skill development training policy is not correct. In the program, the stakeholders suggested correcting the skill development policy and making it timely.
They emphasized making a skill development policy that develops entrepreneurship. Speaking in an open discussion, the deputy secretary general of the Lekhnath Chamber of Commerce and Industry said, "There is a policy but the implementation has been lax." As a result, skilled manpower was not produced. The produced semi-skilled manpower also went abroad. There has always been a lack of skilled manpower here. She said that the state's policy should be on entrepreneurship development to produce skilled manpower and sustain them, and there should be a sense of identity in its implementation.
Trekking Agencies Association of Nepal (TAAN) Gandaki Province Vice President Krishna Prasad Acharya complained that there is a shortage of skilled manpower in the tourism sector but the government has not paid attention to producing such manpower. The government has a policy of teaching skills and sending them abroad. It won't get us anywhere," he said. He further said that manpower should be produced according to the local needs and added, "For example, skills should be taught by targeting tourism in Gandaki."
Dil Prasad Magar of the Gandaki State Training Institute emphasized the need to adopt a policy of teaching skills focused on entrepreneurship rather than creating jobs. Only one person gets a job. But if you become an entrepreneur, employment will be created for at least 10/12 people including yourself. Therefore, the state should have a policy of teaching entrepreneurship-focused skills," he said.
Geeta Neupane, who works in the Social Development Division of Pokhara Metropolitan City, said that a policy should be taken to force those who have been taught free skills to do entrepreneurship in the country for at least 5 years. Similarly, she emphasized that the training provider organizations should also be forced to take responsibility for making the trainees entrepreneurial.
Trade Union Congress Gandaki state president Murari Sharma said that although the policy of providing skill development training was adopted, it was not effective. He said, "There is a policy, but when the implementation was lax, the produced manpower migrated abroad."
Rudra Bahadur Khatri, Jifand Gandaki Provincial President, alleged that the training was limited to mere training and it did not create employment and self-employment. He said that the state should adopt a policy to help the workers become more skilled and professional by creating an environment in which the working people feel respect and self-respect towards the traditionally embraced profession.
All Nepal Trade Union Federation Gandaki Treasurer Tankraj Paudel said that Nepal's education policy is focused on going to foreign jobs and it should be corrected. He said that an educational policy should be adopted to encourage entrepreneurs to stay in the country.
Arjun Pokharel, Vice President of Pokhara Chamber of Commerce and Industry for Industry, suggested making short, medium, and long-term policies to create employment and self-employment. Yuvraj Basnet, an employment expert and member of the drafting committee, said that the number of unemployment has increased due to the lack of production of manpower demanded by the labor market.
About two-thirds of the people who can be employed are unemployed, he said, "What is the demand of the labor market in which area?" No one knows. Nor has it been studied. He said that the state should adopt a policy to produce labor and employment according to the demand of the labor market. He said that if this is done, the situation of unemployment will end only by learning skills. He stressed the need to manage giving loans to those who learn skills.
Joint Secretary of the Ministry of Labour, Employment, and Social Security Dr. Deepak Kafle said that the upcoming skill development training policy will be made according to the suggestions of stakeholders. He clarified that the purpose of skill development training is to produce professional and skilled manpower and to create employment for them in the productive sector.