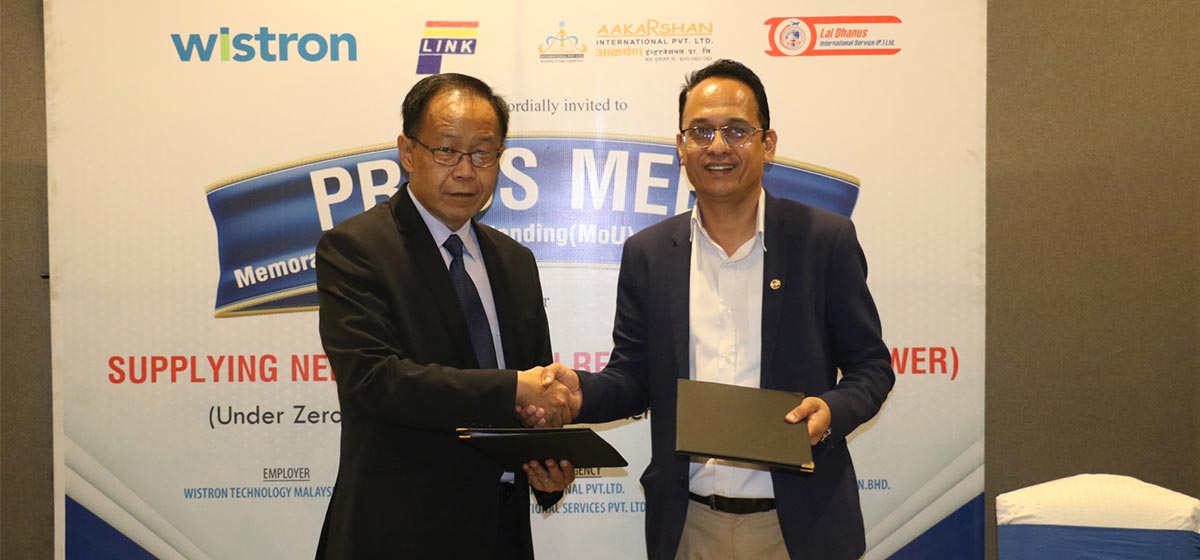 The world's largest IT company in Malaysia is going to take Nepali workers at zero cost. In a program organized in Kathmandu today, a bilateral agreement has been signed between Malaysia's Wistron Technology and Nepal-based manpower company Attraction International and Laldhanush International.
The agreement was signed by Deputy General Manager David on behalf of Whiston Technology and Chairman Bishnu Bahadur KC on behalf of Akarshan International and Chairman Dawa Nawang Sherpa on behalf of Laldhanush International. As per the agreement, Nepali workers will be able to go to Malaysia at zero cost through two manpower companies in the company.
The Malaysian company is going to take 450 workers in the first phase. 140 women and 60 men from Aakarshan International and 175 women and 75 men workers from Laldhanush International are going to Malaysia. A high management team of the company has come to Kathmandu to take Nepali workers to Malaysia. Interviews are scheduled for Wednesday and Thursday.
The company will bear the entire cost of Nepali workers going to Malaysia after being selected, said David, Deputy General Manager of Wiston Technology. "We are very conscious about the safety and health of the workers," he said. "There will be no discrimination between Nepali workers and Malaysian workers in terms of wages and opportunities."
The company has industries in various countries including China, India, Taiwan, Mexico, the Czech Republic, and the Philippines. There are only two industries in Malaysia. The company employs about 80,000 workers in different countries.
Deputy General Manager David said the workers have their own apartments for comfortable living. The company will receive a minimum salary of 1,500 Malaysian re-ringgit for Nepali workers. In addition to allowances and bonuses, there is also an arrangement for annual leave.
Chairman of Attraction International, KC, said that equitable recruitment of workers has been started and the sample manpower has been targeted. The manpower, which has been sending workers for foreign employment for 18 years, has been sending workers at zero cost since 2015.