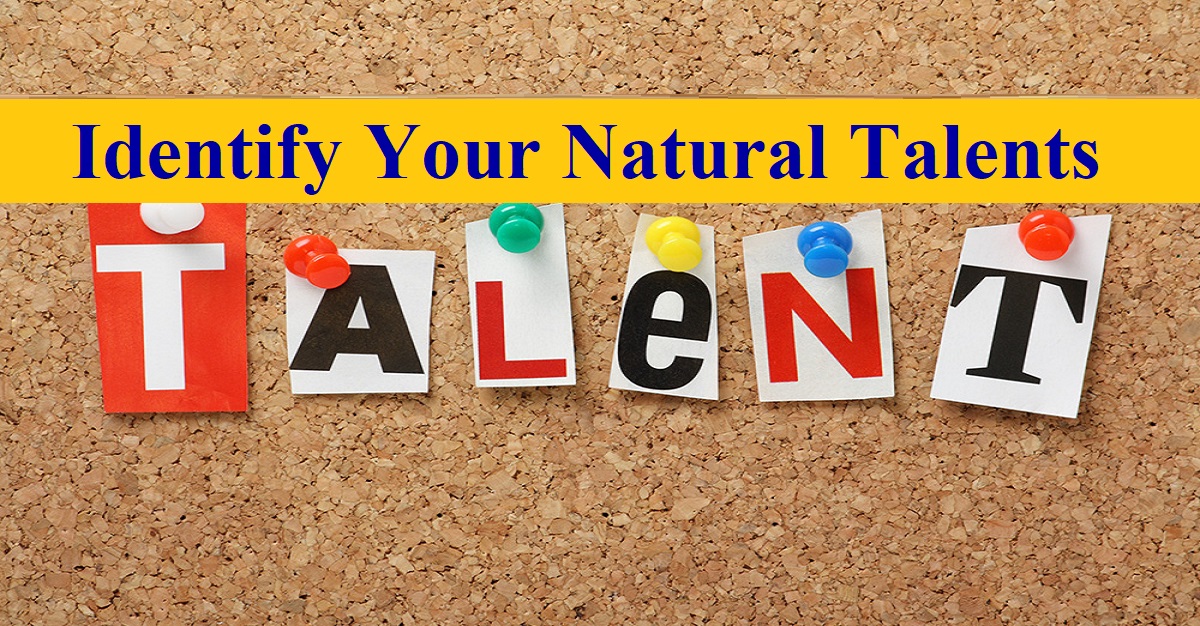 Everyone has some potential or talent, but it may be possible to identify them at the right time and not use them in full use. Every person has some innate talent. If we can recognize it then no one can become an obstacle in moving forward in life. Many times we do not want to do any new work with such fear that we may not fail. It's just an excuse that does not let you succeed in any new deal. We should keep asking ourselves constantly what can be the benefit or loss of our identity by recognizing our natural talent. Once it is realized that we will not have any harm if we recognize the natural talent, then we should see what we are losing due to not knowing the natural inclination. We also have to see that there is no solution in the life of blaming others in life. We have to suffer the consequences of our own mistakes.
To identify the hidden talent, think about what you get from natural pleasure and happiness. Anything like management, publicly speaking, doing diligent work, cooking, wearing good clothes, making life simple and simple, always being happy, appearing with others, or becoming a cheerleader Might be possible.
One way of identifying talent can also be to accept new ideas freely and see your reaction for them. Do not ignore the tasks that you are comfortable with and easily, do not ignore them, their worth. If you can do some work easily (like breathing), then it means that you are skilled in it. This will help you identify your talent. Maybe you do not like this big thing, but someone else might consider it a big achievement.
You have to always use your entire talent to make dreams come true. The mind itself is to see that success takes place. From time to time ask yourself what events or circumstances in life are frustrated with you, then try to reduce them from life. It may be time that it takes time, but if you do not do it then you will stand there. Only after doing this will you be able to make full use of your abilities.
I wanted to be a doctor, but after taking science in college (XI or XII), I discovered that cutting frogs was outside of my bus.
I have passed the examination with barely a few digits. I took two years to understand that the doctor's studies are not on my bus. I left science and chose the arts faculty. For topics such as history, political science and English, and very good marks. Finally, in the first attempt, the Indian Police Service was selected. If I had not recognized my impulsiveness and interest, instead of becoming a high-ranking police officer in the country, there would be a farmer or a teacher more than that.
We all know at least, subconsciously, that which work can best perform. That's our real talent. Our superb talent is so natural that it is a bit difficult to recognize, but somebody else cannot do this work for us. We have to see ourselves that whatever work is very simple and easy for us, what does it value? Maybe our innate and natural talent may be hidden in that. Unfortunately, sometimes we engage in other types of work, ignoring their talents.
There are some tasks that we find difficult but are easy for others, such as handling the computer. We pay for their expertise, skills, and information. The effort should be that instead of walking on a bonded bond, we encourage such an environment in which our natural talents can be exposed. We can serve some of our society or the country on its strength. We must have a good and effective environment to do any work properly. There should be good relations with others as well as better relations with others.
There are some things that you will be able to do on the strength of your natural talent, but for some, you need the help, support, and guidance of others. Do your best to bring out your full potential and potential, so that you do not have the opportunity to perform the best performance in your chosen field.
Meaning of talent:
If you complete a task in less time with more skill than the other, then it is your talent, the work you do with passion and hard work, you give your hundred percent for that work, and that You enjoy working, that is your talent.
Special Quality:
Nature has created all humans separately, a special quality is hidden inside all the persons, because of that virtue you become the subject of discussion between the people, it is necessary to understand that because of this merit You can achieve success, you do not have any tiredness in whatever work you do through that virtue, it is different in every person, if someone likes painting Defense etc., because of this do you school and college days will also compliment by would have received several awards and teachers or others and that he will say that you are a big name in this field.
Identify Your Natural Talents:
All persons have a lot of problem in recognizing their talents, but you choose an area whether it is studying, acting, singing, painting or any work connected with the social service, that work will give you complete honesty, full enthusiasm, and confidence And with patience and you get pleasure in doing this work, then understand that that is your talent, you just need to refine it, you have to For that reason, you can get advice and coach from that area.
Compare to others:
You should never compare yourself to others, because nature has made all persons different from each other, so everyone has the ability to do their work, due to the same capability, those people are quick and successful, your talent has an important role in this ability, and so choose the work you can do well and make your career.
You must also Read: