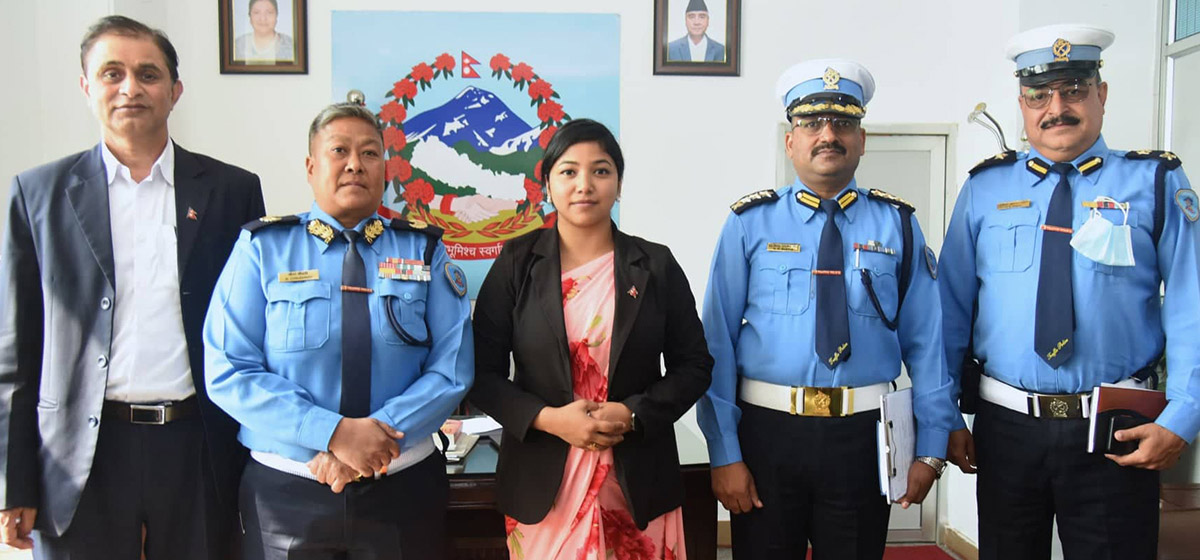 Kathmandu Metropolitan City has decided to conduct a traffic awareness program from the school level to ensure that children are the main carriers of information.
Ramprasad Subedi, head of the Metropolitan Education Department, said that from next week, the Metropolitan Corporation will start a traffic awareness program with the students of public schools.
A meeting was held with a team of other officers including the head of the Valley Traffic Police Office and the Deputy Inspector General of Police Meera Chaudhary in the office of Kathmandu Metropolitan City Deputy Chief Sunita Dangol. A few days ago, the Tourism Secretary's Personal Assistant died on the spot due to a motorbike collision while leaving the front gate of Singha Darbar, pointing out that there is still a lack of traffic awareness in Kathmandu.
According to Education Department Head Subedi, it has been decided to conduct a 30-minute awareness program for students at the time of morning prayer. "Now the department has prepared to send letters to 86 community schools of the metropolis on Tuesday," Subedi told the citizens. He added, "Students also go to practice on the road to gain practical knowledge about the traffic rules learned in school."
In the first phase of the awareness program, classes will be held in community schools. The first class will be held for everyone during prayer time. Then, based on interest and age, older students will be given education and knowledge about traffic volunteers. In this way, students who have taken theoretical classes will be taught practical skills on the road as volunteers. He said that the program started in community schools is aimed to be extended to institutional schools.
Deputy Mayor Dangol said that a traffic awareness program is equally necessary for everyone and she said that an awareness program is also necessary for schools to make students cautious from a young age.
"Through the program of imparting life-useful knowledge and skills to the students in the school, their all-around development work is progressing," Deputy Principal Dangol said, "Families and society will also benefit from the knowledge gained by the students." Students are carriers of information. Changes can be brought about quickly by them.
Deputy Inspector General of Police Choudhary expressed her belief that an awareness course is ready at the traffic office and it will be very useful for children. "In the awareness program conducted in schools, all information related to traffic rules such as lanes, sky bridges, lights, and signs are given," Deputy Inspector General of Police Chaudhary said. "There has been a fruitful cooperation with the metropolis."
Kathmandu