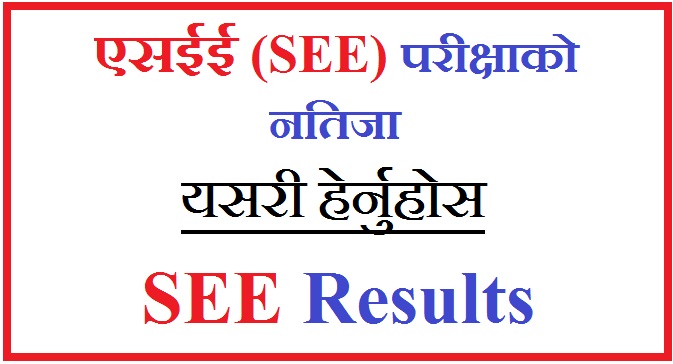 The National Examination Board has published the results of the Secondary Education Examination (SEE) of the year 2077 BS. The evaluation done by the school where the students studied has been collected from all over the country and the results have been published by the board.
Controller of Examinations Rudra Prasad Adhikari informed that the assessment from the school has been verified and made public. He informed that the board has not analyzed the results this year as it has verified the internal evaluation of the school.
He said, "Since we have verified the assessment sent by the school, the board did not consider it necessary to separate the GPA and analyze it."
The Examination Control Office Class 10 has stated that the results of SEE Examination 2077 can be obtained through the Board's website, SMS, and IVR.
NEB said that the results of the regular and grade increment examination of 2077 BS can be viewed by sending an SMS to 34949 from Easy Service Pvt., 31003 from Akash Tech Pvt., And 35001 through Janaki Technology Pvt.
Similarly, NEB has stated that the results of SEE 2077 will be made public by various firms and organizations. From NEB's official website, Nepal Telecom, The Concept Plus, EduSanjal, Nepal Telecom, eKantipur, and Ncell's website.
| | |
| --- | --- |
| National Examination Board Class 10 | www.see.gov.np |
| NEB | www.neb.gov.np |
| The Concept Plus Pvt. Ltd. | www.theconnectplus.com |
| EduSanjal | www.see.ntc.net.np |
| Nepal Telecom | www.edusanjal.com |
| Kantipur Digital Corporation Pvt. Ltd. | www.ekantipur.com |
| Ncell | www.ncell.axiata.com |
Via SMS:
| | |
| --- | --- |
| Firm Name | Short Code for SMS |
| Ezy Service Pvt Ltd. | 34949 |
| Aakash Teck Pvt. Ltd. | 31003 |
| Janak Technology | 35001 |
| Nepal Telecom | 1600 |
| Ncell | 1600 |

SEE
NEB