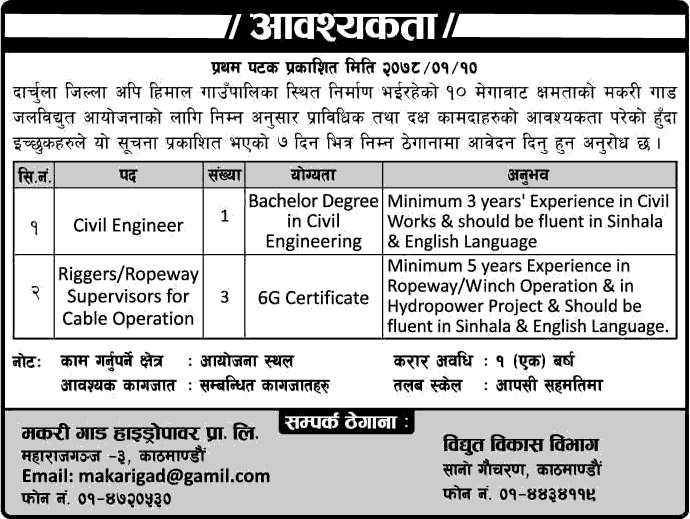 Makari Gad Hydropower Project Vacancy for Civil Engineer and Riggers / Ropeway Supervisors:
As the following technical and skilled workers are required for the construction of the 10 MW Makari Gad Hydropower Project in Api Himal Rural Municipality of Darchula District; Interested parties are requested to apply at the following address within 7 days of the publication of this notice.
Vacancy Details:
Position and Required No.

Qualification and Experience

1. Civil Engineer -1 (One)

Bachelor Degree
in Civil
Engineering and Minimum 3 years Experience in Civil Works & should be fluent in Sinhala & English Language

2. Riggers / Ropeway Supervisors for Cable Operation -3 (Three)

6G Certificate and Minimum 5 years Experience in Ropeway/Winch Operation & in Hydropower Project & Should be fluent in Sinhala & English Language.
Note:
Area of ​​work: Project site
Contract period: 1 (one) year
Required Documents: Related documents
Salary Scale: By mutual consent
Contact Details:
Makarigad Hydropower Pvt. Ltd.
Maharajgunj-3, Kathmandu
Email: [email protected]
Phone: 01-4720530
Electricity Development Department
Sano Gaucharan, Kathmandu
Phone: 01-4434119
First published on 2071-01-10
Darchula
Sudurpashchim Pradesh
Technical Jobs
Hydropower Jobs
Engineering Job