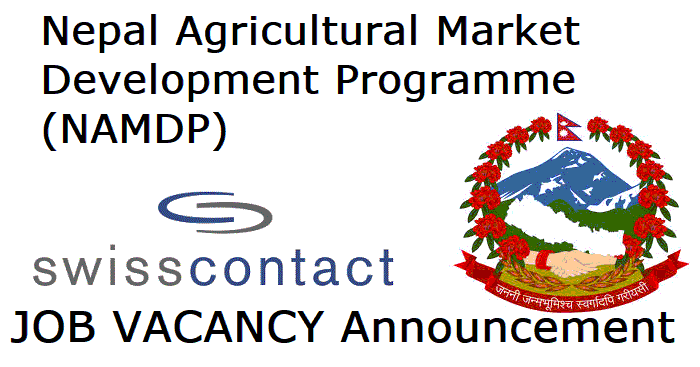 Nepal Agricultural Market Development Programme (NAMDP) Phase-II also known as Sahaj operates under a bilateral agreement between the Government of Nepal and the Government of Switzerland. Sahaj is a Swiss Agency for Development and Cooperation (SDC) project, implemented by a consortium of Swisscontact (as the lead agency) and the Center for Environmental and Agricultural Policy Research, Extension and Development (CEAPRED). Sahaj provides financial and technical support towards the increased provision of services and access to innovation for agri-businesses in Province Number 1.
This will increase demand for smallholders' produce, including them in value-added supply chains and building resilience in rural communities through higher employment and income. Swisscontact invites applications from qualified candidates (Nepali citizens) for the following position.
Position: Finance & Administration Manager
Place of work: Swisscontact Office, Lalitpur, Nepal
Application procedures:
Please visit our website — https://www.swisscontact.org/en/countries/nepal/jobs for the Job Description and requirements for the position.
Interested candidates who meet the requirements are requested to send their current CV (maximum four A4 pages) and a motivation letter to [email protected] latest by 11:59 PM Nepal time on 17 August 2022. Along with the CV and the motivation letter, please send the duly filled in "job application form", which is available on our website (same address as above).
Swisscontact Nepal will not entertain any phone enquiries or other such solicitations for these positions. Only shortlisted candidates will be contacted for the selection process. Swisscontact Nepal reserves the right to reject any and all applications. Swisscontact Nepal promotes workforce diversity and applies positive discrimination to candidates from discriminated groups (women, Dalit, Janajati, Madhesi/Terai and other minority communities).
Job Vacancy