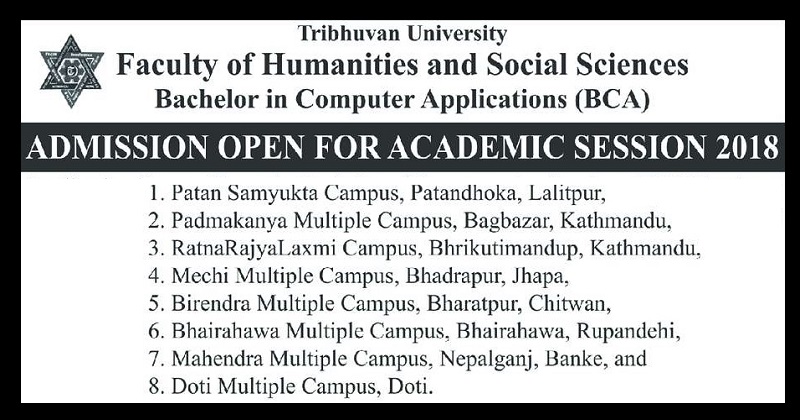 Triblitivan University Faculty of Humanities and Social Sciences Admission Open to Bachelor in Computer Applications (BCA) at various campuses in Nepal.
BCA ADMISSION OPEN FOR ACADEMIC SESSION 2018
Application for enrollment in Bachelor of Computer Applications (BCA) has been called for the Academic session 2018 (2075 B.S.) under the Faculty of Humanities and Social Sciences (FOHSS), Tribhuvan University.
Eligibility:
PCL or + 2 passed with minimum 40% marks or 'C' grade or 2 CGPA.
Admission Details:
Admission form distribution and submission:
From August 8, 2018 to September 7, 2018.
Form submission with late fee: up to 14th September, 2018.
Entrance examination (Written): September 22, 2018.
Time: 8 AM
Admission forms can be obtained from the respective campuses after depositing Rs.1200/- . Forms can also be downloaded from the website: www.tufohss.edu.np
Note: BCA program has been launched in the following Campuses:
Patan Samyukta Campus, Patandhoka, Lalitpur,
Padmakanya Multiple Campus, Bagbazar, Kathmandu,
RatnaRajyaLaxmi Campus, Bhrikutimandup, Kathmandu,
Mechi Multiple Campus, Bhadrapur, Jhapa,
Birendra Multiple Campus, Bharatpur, Chitwan,
Bhairahawa Multiple Campus, Bhairahawa, Rupandehi,
Mahendra Multiple Campus, Nepalganj, Banke, and
Doti Multiple Campus, Doti.
Triblitivan University
Faculty of Humanities and Social Sciences