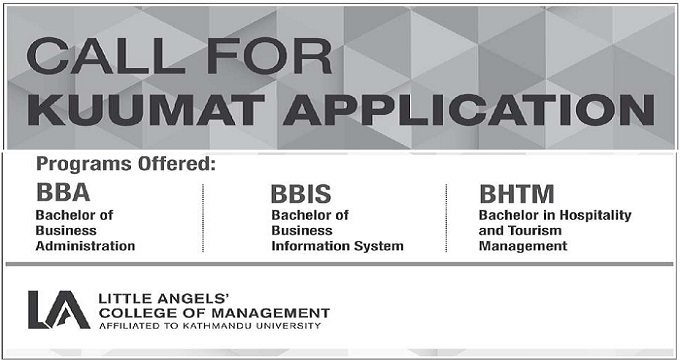 Call for KUUMAT Application
Kathmandu University Undergraduate Management Admission Test (KUUMAT) 2018 is a compulsory requirement for applying to get admission to KU's undergraduate management programs.
Eligibility Criteria
Nepali and non-nepali nationals with a 10+2 or intermediate or equivalent level study program of at least two years duration in any discipline with a minimum of 50 percent in aggregate or CGPA of 2.4 on the scale of 4.0 from universities/boards recognized by Kathmandu University.
Note: Applicants who have completed the qualifying educational level but are awaiting the final results may apply on a provisional basis, provided they have already taken the final annual examinations of the program and passed all previous year papers.
The last date for the submission of completed Application Form is Monday, July 16, 2018
TEST:
DATE: Tuesday, July 24, 2018
VENUE: KUSOM Premises
KUUMAT Forms are available at LACM Reception, Hattiban, Lalitpur and KUSOM, PinchheTole, Balkumari, Lalitpur
LITTLE ANGELS' COLLEGE OF MANAGEMENT
(AFFILIATED TO KATHMANDU UNIVERSITY)
Little Angels' College of Management (LACM) invites application for Kathmandu University's Bachelor of Business Administration (BBA), specialization-oriented undergraduate degree program of high academic rigor and industry relevance and Bachelor of Business Information System (BBIS), a blend of Information Technology with that of business and management.
Programs Offered:
BBA (Bachelor of Business Administration)
BBIS (Bachelor of Business Information System)
BHTM (Bachelor in Hospitality and Tourism Management)
Little Angels' College Of Management
(Affiliated To Kathmandu University)
Hattiban, Lalitpur, Nepal
Telephone: 01-5250123, 5250777
Email: info@lacm.edu.np
Website: www.lacm.edu.np