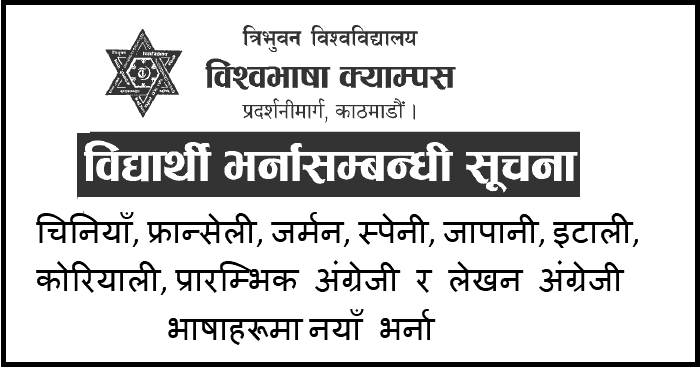 Language Classes Admission Open at Bishwo Bhasa Campus:
Tribhuvan University, Bishwo Bhasa Campus, Exhibition Road, Kathmandu: Classes of Bishwo Bhasa Campus will be conducted from 19th of Magh, 2077; Forms are open for new admissions in Chinese, French, German, Spanish, Japanese, Italian, Korean, Early English, and Writing English.
Students wishing to study any one of these languages ​​are advised to fill up the application form within the stipulated time and be admitted as per the notice published on the campus.
Minimum Qualification:
A) Time of taking and submitting the form: 2077 Poush 17 to Poush 27 (11:00 am to 2:00 pm).
B) Minimum educational qualification required: Must have obtained or passed at least C Grade in SLC or SEE for all languages ​​except English writing.
C) Must have passed Bachelor or similar from TU for writing English.
D) When coming to register the application form, it is mandatory to show the original certificate and verify the copy.
For more information, contact Bishwo Bhasa Campus Administration Branch.
Note: Since July 2021, 4 years, 8 semester Bachelor level classes will be conducted in Bishwo Bhasa Campus in Chinese, Japanese and Korean languages. Interested and eligible students are requested to contact the campus administration.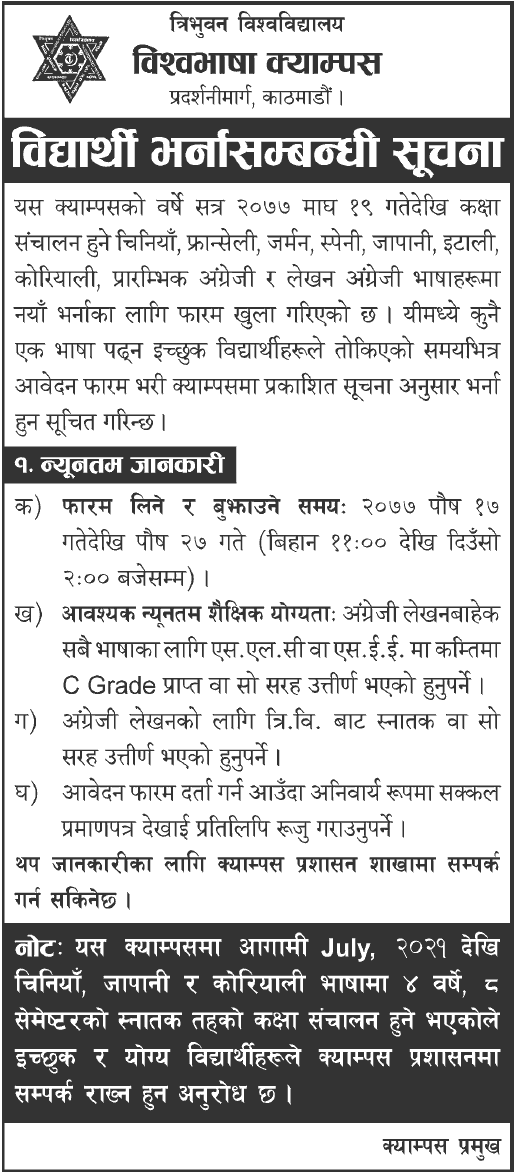 Notice