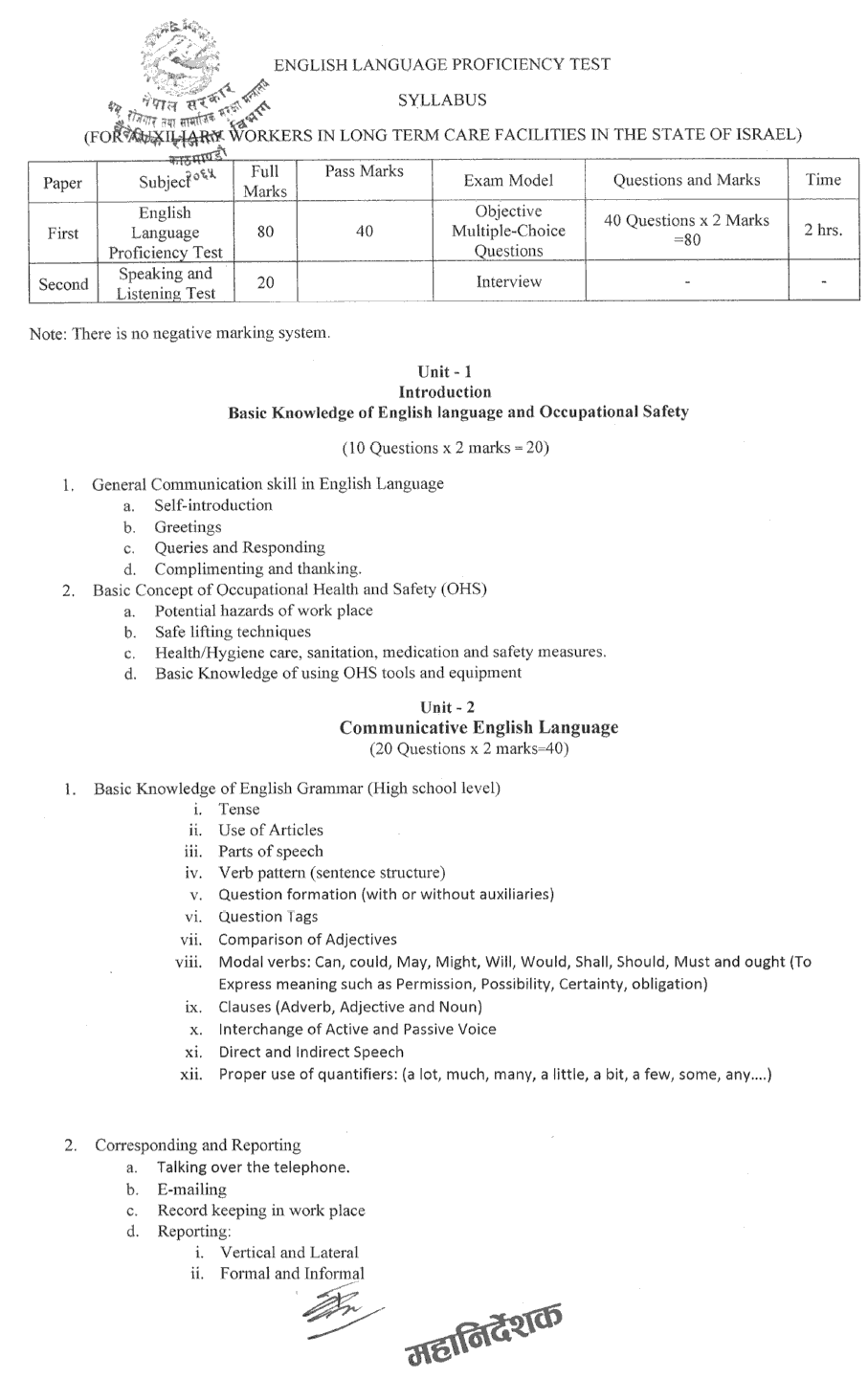 English Language Proficiency Test Syllabus For For Auxiliary Workers in Long Terms Care in the State of Israel
| | | | |
| --- | --- | --- | --- |
| Paper | Subject | Full Marks | Pass Marks |
| First | English Language Proficiency Test | 80 | 40 |
| Second | Speaking and Listening Test | 20 | |
| | | |
| --- | --- | --- |
| Exam Model | Questions and Marks | Time |
| Objective Multiple-Choice Questions (MCQ) | 40 Questions x 2 Marks =80 | 2 hrs. |
| Interview | - | - |
Note: There is no negative marking system.
Unit - 1: Introduction
Basic Knowledge of English language and Occupational Safety
(10 Questions x 2 marks = 20)
1. General Communication skill in English Language
Self-introduction
Greetings
Queries and Responding
Complimenting and thanking.
2. Basic Concept of Occupational Health and Safety (OHS)
Potential hazards of work place
Safe lifting techniques
Health/Hygiene care, sanitation, medication and safety measures.
Basic Knowledge of using OHS tools and equipment
Unit - 2: Communicative English Language (20 Questions x 2 marks=40)
1. Basic Knowledge of English Grammar (High school level)
Tense
Use of Articles
Parts of speech
Verb pattern (sentence structure)
Question formation (with or without auxiliaries)
Question Tags
Comparison of Adjectives
Modal verbs: Can, could, May, Might, Will, Would, Shall, Should, Must and ought (To Express meaning such as Permission, Possibility, Certainty, obligation)
Clauses (Adverb, Adjective and Noun)
Interchange of Active and Passive Voice
Direct and Indirect Speech
Proper use of quantifiers: (a lot, much, many, a little, a bit, a few, some, any....)
2. Corresponding and Reporting
Talking over the telephone.
E-mailing
Record keeping in workplace
Reporting:
Vertical and Lateral
Formal and Informal
Unit- 3: Basic Understanding of Words for Caregiving (5 Questions x 2 marks=10)
1. Concept of Caregiving:
Caregiving in general,
Caregiving for specific needs,
2. Emergency Care and First Aid
2. Basic knowledge of vocabulary used in work places.
Caregiving center, house, hospital and nursing home.
Unit - 4: Knowledge of Caregiving (5 Questions x 2 marks= 1 0)
1. Basic communication of work and work place with care receiver and medical personnel
2. Basic Knowledge of caregiving for:
Maternal and Child care
Caregiving for elderly people
Caregiving for the people with Physical disabilities such as:
Hearing Loss,
Blindness
Mobility disabilities etc.
d. Caring for the people with special needs.
Dementia,
Hypertension,
Alzheimer,
Osteoporosis,
Parkinson etc.