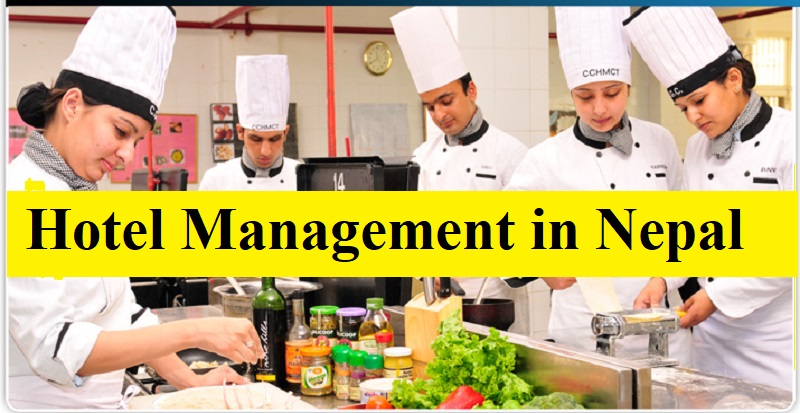 About Hotel Management Courses
Different verticals are included under the Hospitality Field. The hotel industry plays an important role in helping tourists to explore, explore, view, and understand the whole world. This industry provides services to people with the right proportion of both product and service. Under the Hotel Management Course, the development of those skills is studied which is very important for the customers to provide the best experience in this industry.
The main purpose of the Hotel Management Courses is to eliminate the difference between the hotel employees' expectations of the customer and the services it receives. In effect, they have to fully satisfy their services.
Hotel Management Scope:
Hotel Management Graduates are very much required in every area of resorts, airlines, cruises, clubs, food cafes, restaurants and so on. Due to the significant contribution of the country's GDP, the prospect of growth in this industry is very high and the services of this industry are consumed by tourists around the world. Skilled Hotel Management Graduates are considered as a backbone of hotel management.
Types of Hotel Management Courses
There is a lot of vertical under the Hotel Management Industry and each vertical has its own distinctive feature. Before taking admission in the hotel management course, take a complete look at the various types of courses available in the market.
Diploma in Hotel Management
Diploma in hotel management is a 1-year course. You can be the Hotel Management Diploma Course in various disciplines-
DIPLOMA IN FOOD AND VEERWEER SERVICES
Diploma in front office
Diploma in food production
Diploma in Bakery and Confectionery
Diploma in housekeeping
Undergraduate Courses in Hotel Management
The term of undergraduate courses in hotel management is of 3 years. On completion of this course, the Hotel Management degree is awarded. This degree has great recognition in the business world. Undergraduate courses under Hotel Management in the following subjects
Bachelor of Hospitality Management
Bachelor of Hotel Management (BHM)
Bachelor of Hotel Management in Food and Weight
Master of Hotel Management
Master of Business Administration in Hospitality Management
Master of Business Administration in Hotel Management
How to get admission in Hotel Management Courses?
Anyone who has dreamed of taking glamorous career options, taking admission in their Hotel Management Courses is like having their dream come true. Once you know some of the essential conditions for taking admission in any correct institution according to your need, to keep the foundation of your career, then the path ahead will be very easy for you.
Eligibility Criteria:
The primary prerequisite for admission in any institute is its Eligibility Criteria Have to fulfill. On this basis, any institute gives admission to students and students can choose their preferred course.
Eligibility Criteria for each different course are:
Diploma level:
For diploma in hotel management, the candidate has to have 50 percent marks in the 10th and 12th class aggregate work aggregate.
Undergraduate level:
In order to program undergraduate in hotel management, the candidate should pass 10 + 2 examinations with a recognized Board or University with 50% minimum marks.
All specializations offered under the Hotel Management domain:
Sub-specialization is very extensive in the Hotel Management domain. They cannot be understood through just one or two topics. There are some modules under which the students get a full knowledge of the way they work in this field and other related matters. Below are some such specialization courses described -
Food Science and Dietic Management
This topic provides practical skills on topics like nutrition counseling, menu planning, and food quality control to the students so that students can serve their guests properly in case of food service. They can well ensure that the food given to guests is nutritional or not.
Marketing of Services
Under this specialization, the product and service of the hotel are transparent to reach the tourist, meaning that all the facilities are readily available and aspects related to the reliability of the hotel are studied. Apart from this, various strategies, tricks, and knowledge of tactics are also provided by the means of various facilities (i.e. food, rooms, hotel staff and supplementary services such as spa facilities, gaming lounges, etc.) to keep customers satisfied and happy.
Event and Conference Management
Under this, a lot of emphases is placed on developing the skills related to organizing events and conventions. Although there is a wide spectrum of event management, any hotel event is managed by hotel staff by the hotel management, and they do not take any assistance from any event management company.
Hospitality law
Hospitality Law is the main premise to run an institute in a smooth manner. The hotel industry also has various laws related to building, employees and customer's protection. In this context, the emphasis is on understanding the laws related to the Specialization Hotel Industry and to understand the process of preventing crimes that occur in its scope so that they can face all the problems without facing any problems when necessary.
Facilitation planning, design, and management:
Hospitality planning and design management are of great importance in the hotel industry. Because of the beauty of the hotel attracts a lot of tourists on its side. So if you have the desire to design the hotel's wellness planning and its detailed layout, then surely all this specialization will be your first choice.
Career prospects for hotel management courses
Today most trends of young people are towards the hotel management course. There is a lot of demand for skilled professionals in the field. In order to attract the maximum number of native and foreign tourists, the quality parameters of this industry are very high, so payment of salary package in this area is also done accordingly. The following career options are available under the Hotel Industry -
Popular Job Profiles of Hotel Management:
The job provided under each specialization is specific to that domain. Although verticals such as finance, human resources, marketing, and operations remain the same in every industry, here we have focused on the main job found in the hotel industry-
Director of Hotel Operation
Manager of Hotel
SAFE
Floor supervisor
House Keeping Manager
Guest service supervisor
Wedding Coordinator
Restaurant and Food Service Manager
Food and Vibration Manager
front office Manager
events Manager
keychain manager
Possibilities of salary for Hotel Management Graduates
When a student chooses a subject, then its main focus is only on the salary received in that future through that degree. Salary has a decisive role in career growth, the reason is that much investment is made to earn it, and it also has to invest a lot of money to earn returns.