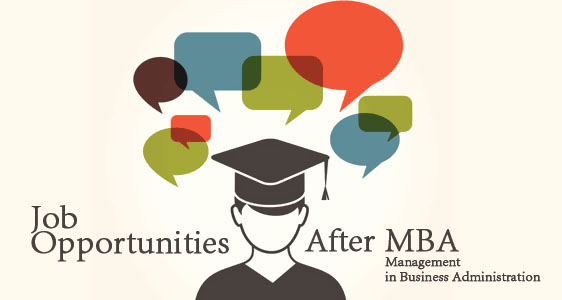 Master of Business Administration (MBA) is a vibrant course for various opportunities and scopes. All MBA pursued students get quick opportunity to enter into jobs market with high perks. An MBA Degree holder has many options to be a head in department such as sales, marketing, supply chain, operations and Human Resources (HR). There are wide range of opportunities in various fields and professional excellences in many sectors such as Management Consultancy, Investment Banking, Real Estate, Product and Brand Marketing and Media and Marketing. Most of the B School have special placement cell to helps students for placement services in top MNC and national companies.
An MBA Degree holder has an opportunity to become a manager in a company and other persons become successful entrepreneur. In this competitive business world; every business needs a pragmatic and intellectual manager to manage the business activities. Therefore, most of the business communities hunt professional manager to handle their business.
Major careers options and Jobs for MBA:
Financial Institutions: MBA in Banking and Finance can be the best options to enter in financial institution such as banks, finance, insurance and other investment companies. Most of the financial institution provide high perks or rewarding with low risk.
Real Estate: MBA in Real Estate for the right choice to grow the real Estate business and earn high amount of reward by selling, buying, financing or leasing of properties. It is also an energetic business with enormous benefits.
Consultancies: MBA holder also have an opportunity to become a consultant to find out the solution for many problems in business. It is also high demanding and rewarding filed for MBA.
Marketing Management: MBA in Marketing Management is the excessive sources of opportunities in the markets. Product branding and marketing is the great responsibilities and high market relations.