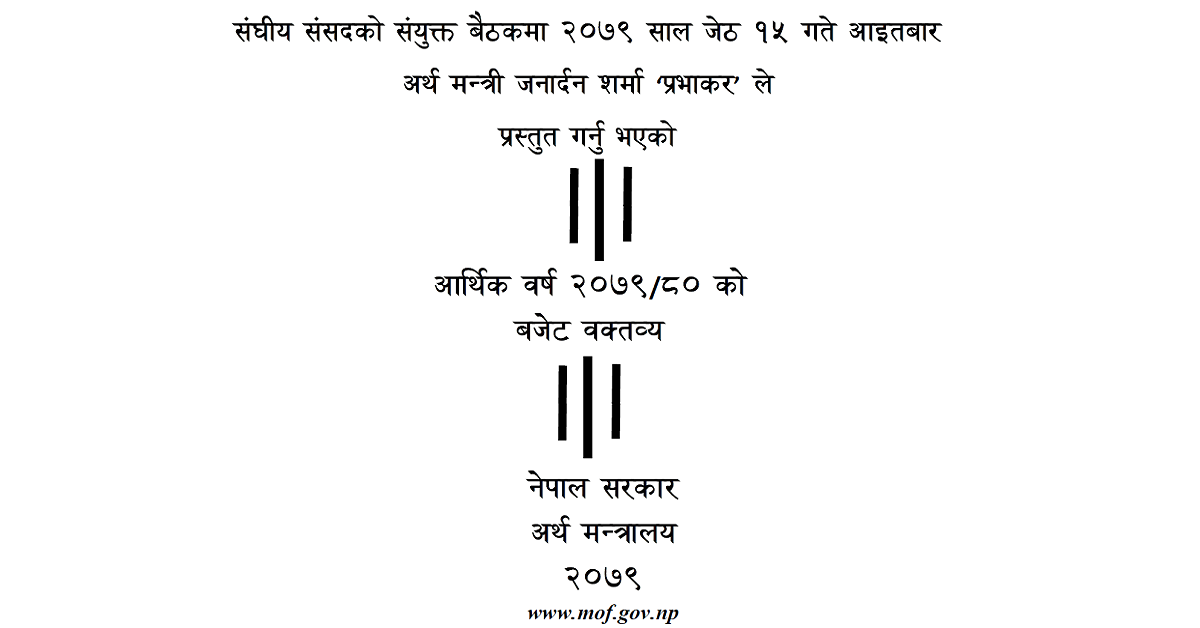 Finance Minister Janardan Sharma has brought a budget of Rs. 1,793.83 billion for the coming fiscal year. Out of which, 42 percent or Rs. 753.40 billion has been allocated for current expenditure and 21.2 percent or Rs. 380.38 billion has been allocated for capital expenditure. Similarly, 12.8 percent or Rs. 230.22 billion has been allocated for financial management, said Finance Minister Sharma.
429.83 billion or 24 percent has been allocated for the transfer of finance to the states and localities. Out of the estimated sources of expenditure for the coming fiscal year, Rs 1.24 billion will be borne from revenue and Rs 55.46 billion from foreign grants, the government said.
The government says that the remaining Rs. 256 billion will be borne from the external debt as the expenditure allocated for current, capital and financial transfers will be less than the revenue and foreign grants of Rs. 498.26 billion.
The government has projected economic growth of eight percent in the coming fiscal year. The government has set a growth target of 7 percent for the current fiscal year, but only 5.84 percent, according to the Public Economic Survey.
The government has set a target of 7 percent inflation. For that, Nepal Rastra Bank will formulate monetary policy. The implementation of the budget will achieve high economic growth, lay the groundwork for transformation of the agricultural sector, orient towards food self-reliance, promote exports, reduce trade deficit, build basic infrastructure, and increase access to quality and vital education and basic health services through investment in social sectors. .
Similarly, the government expects to reduce multidimensional poverty and strengthen the foundation of social justice through social security programs, lay the foundation for a socialist-oriented economy, and contribute to building a just society.
Development of agriculture and industry sector, expansion of transmission lines, development of airport and tourism infrastructure, construction of roads, electricity, irrigation projects, and implementation of information technology projects will lay the foundation of economic development.
The government is confident that the implementation of the budget will create significant employment in agriculture and forest, tourism, industry, electricity, and services. The Minister clarified that the balanced economic policy taken by the government with economic growth and macroeconomic stability will create the basis for sustainable development including institutional development.