Overview
Baganaskali village municipality is located 7 kilometers northeast of Tansen Bazaar, the center of the Palpa district. As per the decision of the Government of Nepal dated 12th March 2017, this Baganaskali Gaupalika has been established by incorporating the former 9 Village Development Committees (Chirtungdhara, Pokharathok, Nayaranmatles, Khanichhap, Darlamdanda, Yamgha, Khanigaun, and Barandi). There is a mixture of different arts, cultures, languages, religions, and castes.
There is a lot of fertile lands, community forest area, rare wildlife, and birds. Brahmins, Chhetris, Magars, and Dalits, including Bote and Kumal, are the majority in this village municipality. This village has a lot of potential to transform society through agriculture and religious tourism.
Geographical conditions
The Borders:
In the east – Rambha Gaupalika
In the west – Tansen Municipality
In the north – the Kaligandaki River
South– Mathagarhi Gaupalika
Division:
District: Palpa
Office and location: Chirtungdhara
Total Number of Ward: 9
Area: 84.16 sq. km
Population: 31361 (as of National Census 2068)
Major religious and historical tourist places:
1) Bagnas Temple
2) Mahakali in Darl
3) Mahamrityunjaya Shivasana Kshetra
4) Barandi Siddhababa
5) Sungufa Ramandi Dham
6) Malar Ni
7) Queen's Palace
8) Rishikeshwar Temple
Geographical Location and Boundaries:
The municipality is full of biodiversity and extends from a minimum height of 550 meters above sea level to 1250 meters above sea level. Due to its geographical diversity, the climate varies according to altitude and time.
The temperate climate is found in the mountainous regions and temperate climate in the Mahabharata mountains. Usually, rainfall is expected from the end of May and from June to August due to monsoon, while sporadic rainfall is expected in December/January due to northerly wind. It is bordered by East Rambha and Mathagadhi Gaupalika in the east, Tansen Nagarpalika in the west, Syangja district in the north, and Tansen Municipality and Mathagadhi Gaupalika in the south.
The temperature in the region reaches 40 degrees Celsius in summer and 6.5 degrees Celsius in winter, with an average temperature of 22 degrees Celsius. Instead of the fog in winter, the sun shines in the morning and it feels a little warm in summer.
Land use conditions:
The total area of ​​the municipality is 165 sq. km. According to Agriculture Development Office, Palpa, less than half of the land in this area is used for agriculture. According to this Rural Municipality, Chirtangdhara is the leading VDC in terms of arable land, while Khanichap VDC is the last. However, if we look at Pakho Bari as the basis, Yamgha VDC Agra and Chappani are in the last place.
Weather and Climate:
Bagnaskali Rural Municipality is located in the central part of the district. It has a varied climate ranging from 2000 meters above sea level to 4357 meters above sea level.
Being situated in a hilly area, Mathagadhi has a temperate monsoon climate. It is characterized by mild winters and normal heat in the summer months. The climate is normally hot from March to October and cold from November to February. The winter month is in December and the summer month is in December. The average annual rainfall is 2200 ML and the average annual temperature ranges from 3.7°C to 35°C.
It covers an area of ​​84.16 sq km and has a population of about 21,500. Tansen can be seen from this Baganaskali without being a picturesque tourist. This village municipality is spread from Madi field to Darpuk and Dailatung through Ramdi. This Rural municipality, which is also inhabited by marginalized Bote and Kumal castes, has an unprecedented confluence of ethnic diversity.
Especially Bahun, Chhetri, Newar, Magar, Kami, Damai, Sarki, Kumal, and Bote are the ethnic communities living in this village. Along with ethnic diversity, the original culture and traditions here are our identities. The traditional copper renting industry of Yamgha Tekre, the agro-jawal industry of Bhutuker Tokse, Sancho of Bagnas, and traditional pottery renting industries of Kumal caste are our past identities.
Geographical Map Bagnaskali Gaupalika, Palpa: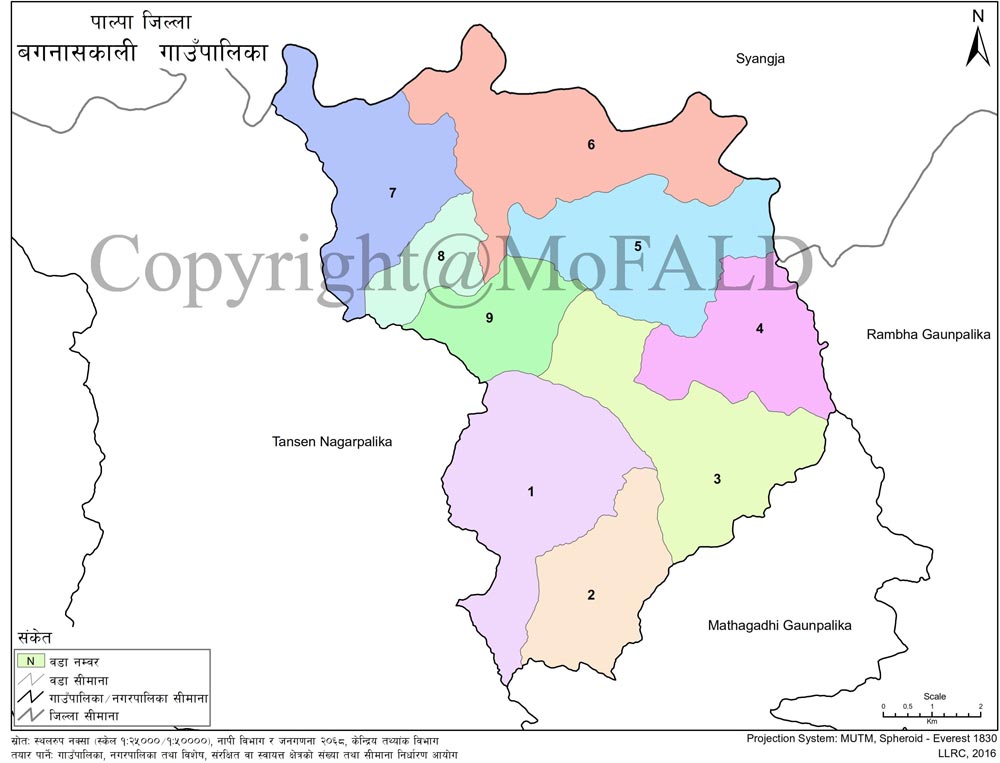 Contact Details:
Bagnaskali Rural Municipality
Chirtungdhara, Palpa, Lumbini Pradesh, Nepal
Phone: +977-9857068868, +977-9857062138
Email: [email protected]
Website: www.baganaskalimun.gov.np