Overview
Hetauda Sub-metropolitan City (हेटौंडा उप-महानगरपालिका) is the district headquarters of Makwanpur district. It is a major commercial and transport hub in central Nepal. It is located at the junction of Mahendra Highway and Tribhuvan Highway. There are Hindus, Buddhists, Muslims, and Christians. Hetauda has also been expanded from a municipality to a sub-metropolis after the social committee under the Council of Ministers of Nepal decided to add 61 municipalities and make seven municipalities sub-metropolises. When Hetauda was declared a sub-metropolis, it included Vasamadi VDC.
With the historical and religious background of "Hedamwa" and Shakti Swarupini Mata Bhutan Devi, the two national highways of the Kingdom of Hetauda are located at the confluence of the Mahendra Highway and the Tribhuvan Highway. Hetauda, ​​located in the central part of Nepal, was established as the regional headquarters of the Central Development Region. The Nagar Panchayat was declared in 2026 BS.
According to the legend based on the Mahabharata, five Pandavas came to this place during their exile and Bhimsen immediately killed Hedamba during a battle with the Hedamba demon. Bhutan Devi temple established in the name of Bhutan Devi, the sister of Hedambaki. It is located at 10, where daily worship is performed as well as related festivals.
Hetauda Sub-metropolitan City has Martyrs' Memorial, Makwanpurgadhi, Pashupati Temple, Historic Bhutan Devi Temple, Manakamana Temple, Gokshekwa Temple, Kusmand Sarovar, Gumba Danda, Bhairav ​​Danda, and Punyakshetra as well as Pushpalal Park.
Geographical Map of Hetauda Sub-metropolitan City: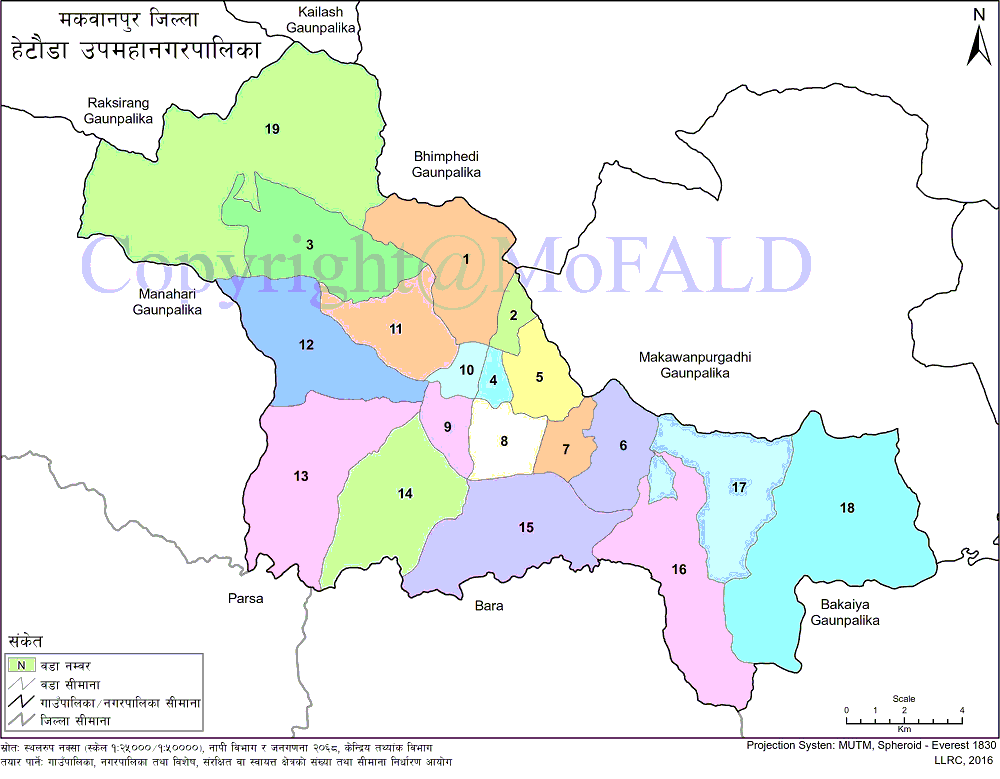 Contact Address:
Location: Hetauda, Makwanpur, Bagmati Pradesh, Nepal
Telephone: +977-57-520377, +977-57-524688, +977-57-520044
Email: [email protected]
Website: www.hetaudamun.gov.np