Overview
Makwanpurgadhi Rural Municipality (मकवानपुरगढी गाउँपालिका) is located in Makwanpur district. After the implementation of 853 local levels by the Ministry of Federal Affairs and Local Development in 2073 BS, Makwanpur Gadhi Gaupalika has been formed in Makwanpur district by merging the former Makwanpur Gadhi, Ambhanjyang, Sukaura, and Budhichaur Village Development Committees. The total area of ​​Makwanpurgadhi Gaupalika is 148.72 sq. Km. Makwanpurgadhi is divided into 8 wards. The total population of Gaupalika is 25,322. It is bounded by Gaupalika on the east, Bhimphedi Gaupalika on the west, BhimPhedi Gaupalika on the north, and Hetauda Sub-metropolitan City on the south.
Makwanpurgadhi, the largest fort in the country, was ruled by Makwanpurgadhi and Sen kings for 209 years.
With the onset of cold weather, the number of visitors to the historic Makwanpurgadhi Durbar has skyrocketed.
Makwanpurgadhi has become the choice of both internal and external tourists due to its beautiful historical heritage, Vanshagopal Temple, Kalika Temple, Siddheshwar Mahadev Temple, and attractive religious sites including monasteries and stupas, scenic environment, convenient transportation system, ample space for picnics and peaceful environment.
Built by Nepal's first Sen dynasty king Tulasen in the 11th century and established by Lohang Sen, the youngest son of Palpali king Mukunda Sen in 1610 BS, the Makwanpurgadhi Durbar area, the capital of the vast Makwanpur state for 209 years, is now crowded with domestic tourists.
Visitors from Makwanpur, Lalitpur, Kathmandu, Sindhuli, Chitwan, and various districts of Province No. 2 and some foreign tourists have also started coming to the fort.
Those who want to come directly from Kathmandu have to make a pleasant journey of 70 kilometers. From Chapagaun, you can enter Makwanpurgadhi Gaupalika after crossing Makwanpur through Malta of Lalitpur.
In the past, tourists used to visit only the big forts, but now the picturesque Sanogadhi and Raxaul in India are at a height that can be seen and even the stone fort, which is covered by Gurans during the flowering season, is full of tourists.
History:
Although it is said that it was built in 1000 BC by Tula Sen, a Sen dynasty who fled from India to escape the Muslim invasion, there is not enough evidence. But citing the then Chief Research Officer of the Department of Archeology, Janaklal Sharma, a report by Dr. Safalya Amatya published in 2027 states that Makwanpur had become a powerful Sen state in the eleventh century.
According to some historians, Makwanpur is the birthplace of the Sen dynasty of Nepal. King Mukunda Sen of Palpa called himself Makwani. Based on what is found in some inscriptions and inscriptions, it can be said that the Sens went to Palpa from Makwanpur and not from Makwanpur.
According to the genealogy of the Sens, a king named Kham Sen established the kingdom at Palpa around 1500 BC and started the Sen dynasty. Mukunda Sen is the son-in-law of the same Kham Sen. Kham Sen's son Chandra Sen, Chandra Sen's son Rudra Sen and Rudra Sen's son Mukunda Sen are mentioned in the genealogy.
However, in 2027 BS, a government team led by Dr. Amatya, an archaeologist of the Department of Archeology, studied the situation, inscriptions, copperplates, etc. and submitted a report to the government to study Makwanpur. It is mentioned that Tula Sen took over the state by constructing Makwanpur.
Citing an ancient genealogy, the report mentions that after Tula Sen, Dalbhanjan Sen, Gajapati Sen, Chandra Sen, and Rudra Sen were kings in this fort.
This is similar to the Palpali lineage mentioned above, but due to differences in names and differences in dates, most historians have not been able to form a definite and official opinion.
Most historians agree that after Mukunda Sen relinquished his throne and retired, the vast Sen kingdom was divided among his four nephews and two nephews, and his youngest son, Lohang Sen, fell to Makwanpur.
In 1610 BS, Lohang Sen became the king of independent Makwanpur by making Makwanpurgadhi, the fort built by his ancestor Tula Sen, his capital.
Along with Lohang Sen, seven generations including Raghav Sen, Harihar Sen, Shubh Sen, Manik Sen, Hemkarna Sen, and Digbandhan Sen have ruled Makwanpur for 209 years.
After being defeated by the army of King Prithvi Narayan Shah of Gorkha on 9 August 1819 BS, the last king of Makwanpur, Digbandhan Sen, fled to Bengal via Sindhuligadhi and sought help from Mir Qasim, the emperor.
It is said that the army entered the Makwanpur field on the day of Maghe Sankranti and looted and occupied it for nine days. According to Kedar Neupane, a historian and researcher from Makwanpurgadhi, the Gorkhali army prepared for war from within and surrounded the camp on the night of January 25.
According to him, more than 1,700 Bengali soldiers had been killed by the next day, January 26, while the surviving troops, including General Gurgin Khan, had fled. Before the arrival of Prithvi Narayan Shah, who was bringing 1,100 troops to fight the Bengali army, the 800-strong Gurkha army had defeated an army almost four times larger than itself and seized a large number of arms.
Geographical Map of Makwapurgadhi Rural Municipality: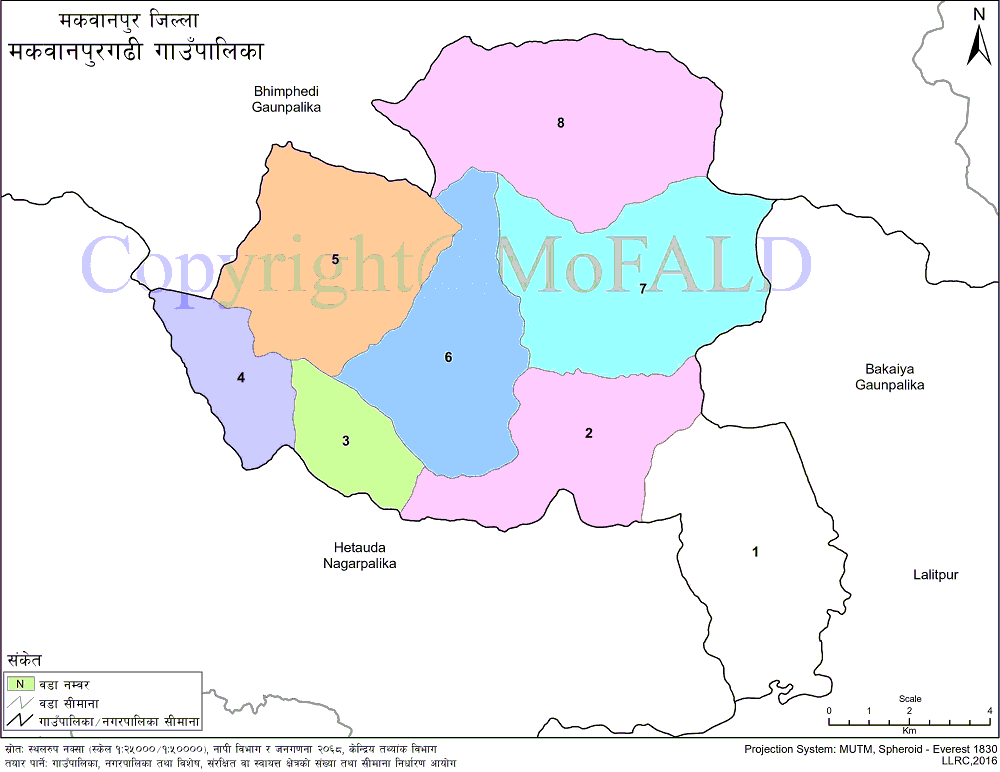 Contact Address:
Location: Makranchuli, Makawanpur, Bagmati Pradesh, Nepal
Telephone: +977-9855088966
Email: [email protected]
Website: www.makawanpurgadhimun.gov.np