Overview
Manahari Rural Municipality (मनहरी गाउँपालिका) belongs to Makawanpur district under the Bagmati region of Nepal. It is geographically located between 84042'35 "to 850 57'36" east longitude and 270 23'34 "to 270 36'37" north latitude. Similarly 199.52 sq. Km. It is bounded by Hetauda Hetauda Sub-Metropolitan City in the east and Raksirang Gaupalika in the west, Manahari in the west, Chitwan National Park in the west, Raksirang Raupalika in the north and Parsa district in the south. Manahari and Handikhola VDCs of Savik on 2073-11-22. A total of 9 wards have been established.
Among the newly formed village municipalities in Makwanpur district, Manahari village municipality has good potential for development. In addition to this, the conscious political parties and the motivated villagers are also the sources of strong and sustainable development of this village municipality. This village is inhabited by people of different castes and religions. In terms of caste, the highest population figures are 18,043 or 46.15 percent Tamang, followed by 5,624 or 14.38 percent Magar, third Brahmins 11.29 percent, fourth and fifth Chepang / Praja 9.44 percent and Kami 4 respectively. 53 percent.
Agribusiness has the largest share in the average family income of the village and other sources of income of the locals are trade, business, small scale industries, jobs as well as foreign employment. Looking for alternatives to the traditional system of agribusiness, the people here are gradually enjoying a modern lifestyle.
The number of local manpower going abroad for wages and studies is increasing. Apart from local students, students from other neighboring villages/municipalities and districts also come to the educational institutions of this village for study. Although most of the houses have been electrified, some of the marginalized people have not been able to access electricity.
Due to the lack of people's representatives in the local bodies for a long time in the past, difficulties in the implementation of planned development programs, and difficulties in necessary financial management, the expected development of this village municipality does not seem to be possible. Different festivals are celebrated in this region where people of different communities and castes live. Dashain, Tihar, Maghi, Holi, Mahashivaratri, Krishna Janmashtami, Chhonam (Nawagi), Bakraid, Ramadan, Chhathparva, Holi, Buddha Jayanti, Christmas, etc. are the major festivals here.
Profile:
Local-level name: Manahari Rural Municipality municipality
Date of establishment: 2073 BS (2017 BS)
Village Municipality Center: Manahari 9, Rajaiya
Ward number: 9
Area: 199.52 sq. Km
Population: 38399 (according to 2068 census)
Geographical location:
East: Hetauda Sub-metropolitan City
West: Rapti Municipality, Chitwan
Answer: Raksirang Rural Municipality
South: Parsa District / Parsa National Park
Main castes: Tamang, Chepang, Dalit, Janajati, Chhetri, Bahun, Bankaria, Rai etc.
Geographical Map of Manahari Rural Municipality: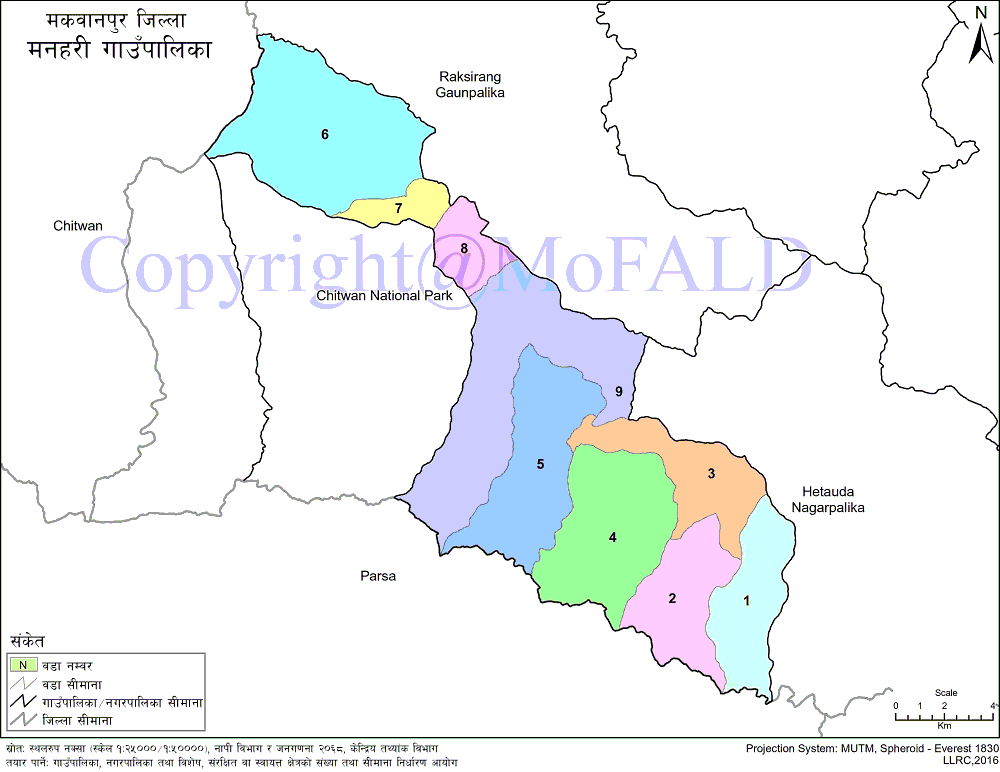 Contact Address:
Location: Mmanahari-9, Rajaiya, Makwanpur, Bagmati Pradesh, Nepal
Telephone: +977-57-419303
Email: [email protected]
Website: www.manaharimun.gov.np