Overview
Established in 2017 AD, Mathagadhi Rural Municipality (माथागढी गाउँपालिका) is named after Mathagadhi, located on a hilly island at an altitude of about 5,000 feet above sea level, south of the former Gothadi VDC in the Palpa district.
Mathagadhi Gaupalika formed by merging former 7 VDCs such as Chidipani, Kaseni, Rupse, Jhadeva, Gothadi, Rahbas, and Bahadurpur. It has an area of ​​215.49 square kilometers. Divided into 8 wards by political and administrative points of view, it is bounded on the north by Purbakhola Rural Municipality, Rambha Rural Municipality, and Bagnas Rural Municipality, on the south by Rupandehi and Nawalparasi Districts, on the west by Tinau Rural Municipality and Tansen Municipality and on the east by Purbakhola Rural Municipality and Nisdi Rural Municipality.
According to the census of 2068 BS, the total population is 25017 including 13,901 females and 111,116 males. On the basis of caste details, Magar-18,552, Brahmin-1,670, Kami-1,654, Chhetri-730, Kumal-697, Sarki-502, Damai-365, Newar-169, Gharti / Bhujel-130, Muslim- There are 18 plaintiffs, 19 plaintiffs, 57 Dasnami and 170 others. Most of the people in this rural municipality are involved in agriculture while some are also involved in government services, trade, and foreign employment. Madiphant, Jhadevaphant, and Materiphant are suitable places for paddy production while Bahadurpur, Rahwas, Hattilung, and Gothadi are suitable for commercial goat rearing.
The paved road toward the physical infrastructure of this rural municipality is 25 km. Gravel 38 km. And Kutchi 131 km. There is a road. There are 1 undergraduate campus, 12 secondary schools, 5 basic schools, 28 primary schools, 39 kindergarten centers, and 3 community learning centers. Similarly, there are 8 health posts, 1 Ayurveda dispensary, 7 birthing centers, 7 public health labs, and 1 community health unit.
Geographical Map of Mathagadhi Gaupalika: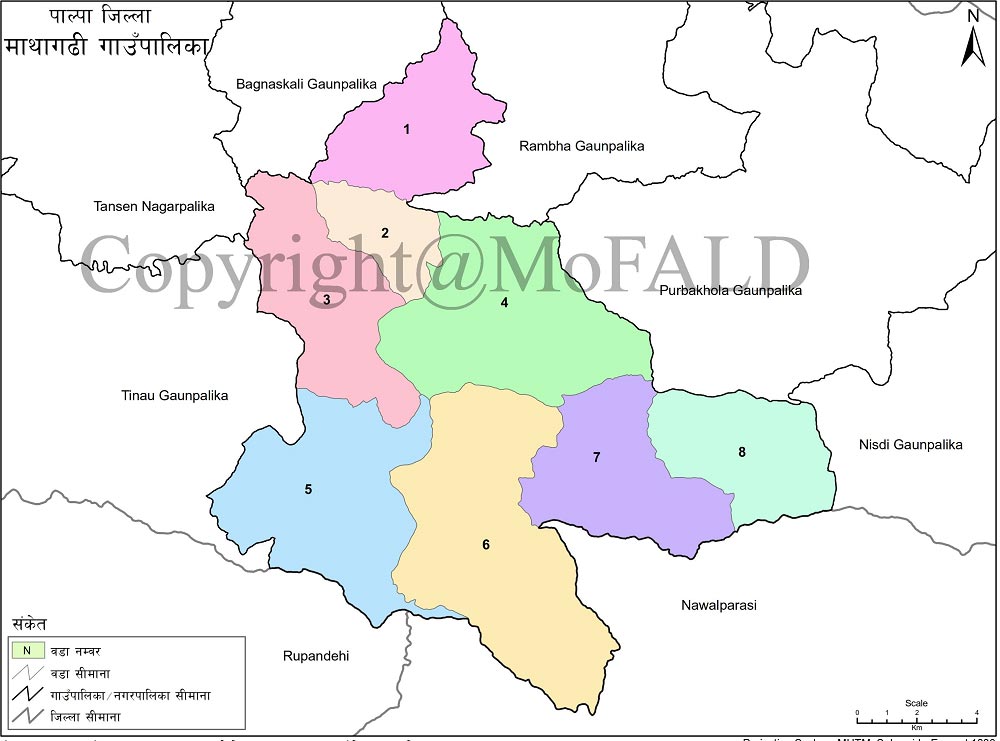 Contact Details:
Mathagadhi Rural Municipality
Jhadewa, Palpa, Lumbini Pradesh, Nepal
Phone: +977-9857062449, +977-9844757159
Email: [email protected]
Website: www.mathagadhimun.gov.np