Overview
Panauti Municipality (पनौती नगरपालिका, पनौती, काभ्रेपलाञ्चोक), which was declared on 11 Magh 2053 BS (24 January 1997). In 2073 Phalgun 27 (10 March 2017), the Panauti Municipality was restructured from its former Panauti Municipality and Kushadevi, Rayale Vihawar, Kalati Bhumidanda, Balthali, Sharda Batase (3,4,9) and Shankhuchaur (4) VDCs were merged and has been formed as the present Panauti Municipality.
This municipality is divided into 12 wards. It is believed that the ancient Panauti was established during the reign of Ananda Malla (1274-1301 AD) and its separate existence as a country came to an end during the unification of Nepal after 1820 BS. It is located 32 km southeast of the capital Kathmandu. There is a distance. The city covers an area of ​​118.09 sq km and is 1,340 m above sea level. To 2782 m. Is at the height of
Dhulikhel Municipality in the east, Lalitpur and Bhaktapur districts in the west, Banepa Municipality, and Bhaktapur districts in the north, Bethanchowk Gaupalika in the south and Lalitpur district are the boundaries of Panauti Nagar.
The maximum temperature in this city is 32 ˚ C. From minimum 0s. If the temperature tends to remain; The average annual rainfall is 1200 mm.
Despite the predominance of Brahmins, Chhetris and Newars, Thakuri, Mijar, Pariyar, Vishwakarma, Gharti, Pahari, Rai, Tamang, Sanyasi and Magar have also been settled. The town has a total of 10844 households and a total population of 56,329. The main source of income for most of the citizens of this rural-dominated town is agricultural production. Potatoes, paddy, oranges, and dairy products are the major products here. In recent years, green but curry production is also taking a commercial form. Apart from the plywood/wood industry, small scale home industries, shops, and dairy processing centers have also become jobs here.
The municipality of Panauti is of great historical, archeological and religious significance. Rich in many original cultures and traditions, various processions and festivals are held regularly. The Capricorn Fair at Triveni Ghat every twelve years, the Halsiddhi Devta Jatra every 12 years, the annual Jya Poonhi (Panauti Jatra), Devinach Bhadrakali Dance, Wisket Jatra, Ranganath (Temple) Jatra, Madhav Narayan Mela, and countless other festivals add to the cultural grandeur of Panauti. Is kept high.
Indreshwar Mahadev (built by Princess Viruma Devi in ​​1351 BS), Bhadrakali, Bahmayani, Badrinath, Kedarnath, Tolanarayan, Manmat Bhairav's statues and the artistry of the temple is a unique example of ancient craftsmanship, even in the old houses of Bazar Tol. Art seems obvious. Dhaneshwar Mahadev Temple and Ranthanath Temple and Dropadadevi Temple in Khopasi are further examples of this. A proposal to include the ancient Panauti in the World Heritage List is under consideration by UNESCO to convey this importance to the world and ensure its future.
The institutional educational development of the Panauti region, which started from Panauti Pathshala (now Panauti Lower Secondary School) established in 1972 BS, has made great strides. Apart from the innumerable primary level community and private schools, the same number of lower-level and secondary level schools are also functioning. Panauti, the first Information Technology Park in Nepal, is a beautiful place of pilgrimage.
Geographical Map of Panauti Municipality: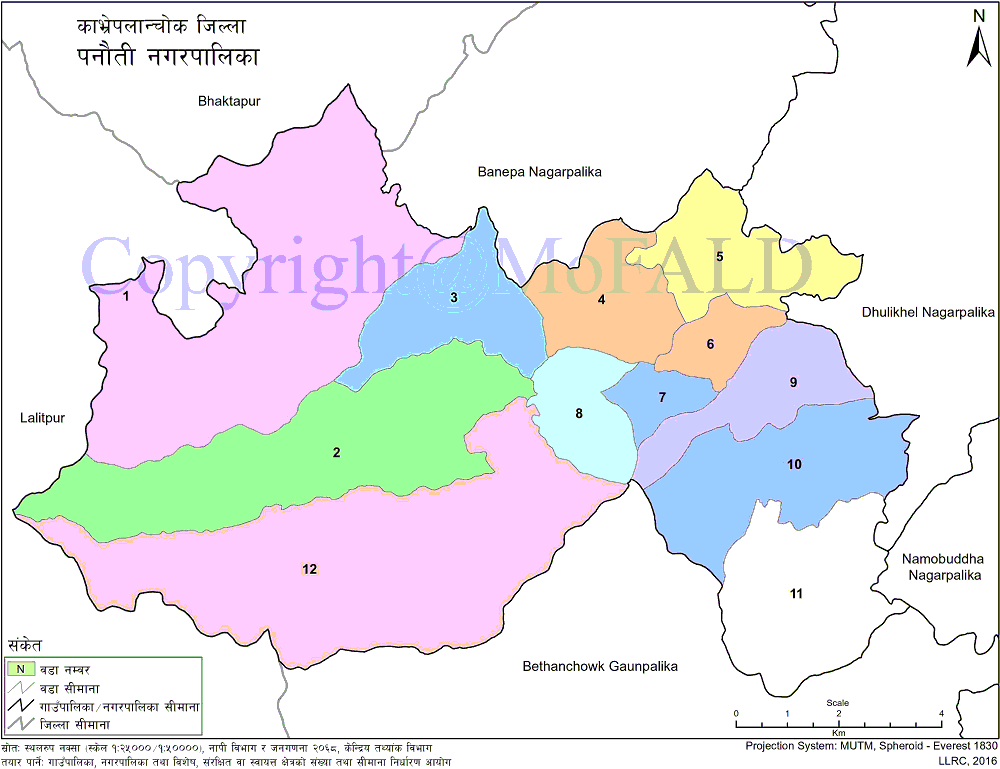 Contact Address:
Location: Panauti, Kavre, Bagmati Pradesh, Nepal
Telephone: +977-11-440136,+977-11-440138
Email: [email protected]
Website: panautimun.gov.np