Overview
Rampur Municipality (रामपुर नगरपालिका) is one of the 72 municipalities announced by the Government of Nepal on 25th Baishakh, 2071 BS. Due to its political divisions, the Western Development Region, Lumbini Zone, Palpa District, East Palpa, is situated on the banks of the sacred Kali River in a pure, clean, and religious manner. Rampur, which in ancient times was a footpath for the trade of salt, wool, and gold, is now a potential industrial and commercial center.
Rampur Nagarpalika, Palpa is located 65 kilometers east of the district headquarters Tansen, this Rampur municipality is about 375 KM away from the capital Kathmandu by a paved road. The distance from Rampur to Kathmandu has been shortened to 250 KM after the construction of a concrete bridge at the famous Keladi Ghat. Its geographical location is 27 degrees 33 minutes to 27 degrees 53 minutes north latitude and 83 degrees 46 minutes to 83 degrees 54 minutes east longitude. Located at an altitude of 350 m to 1100 m above sea level, Rampur municipality covers an area of ​​123.34 sq. Km.
It is bounded by Wakamlang in the east, Heklang, Siluwa in the west, Chapakot municipality of Syangja across the Kali river in the north, Ghiring rural municipality of Tanahu, and Nisdi rural municipality of Palpa district in the south.
The municipality, which came into operation on the 4th of Jestha, 2071 BS, was formally inaugurated on the 17th of Jestha, 2071 BS. According to the 2068 census of the municipality, which includes Gadakot, Darcha, Rampur, Khaliwan, and Geja VDCs of Savik, out of the total household population of 8,132, 35,396 are 19,958 females and 15,438 males. It is believed that the place was named Rampur in the Treta era as it was believed that the place was inhabited by the dearest Purushottam Shri Ram.
Geographical Map of Rampur Municipality: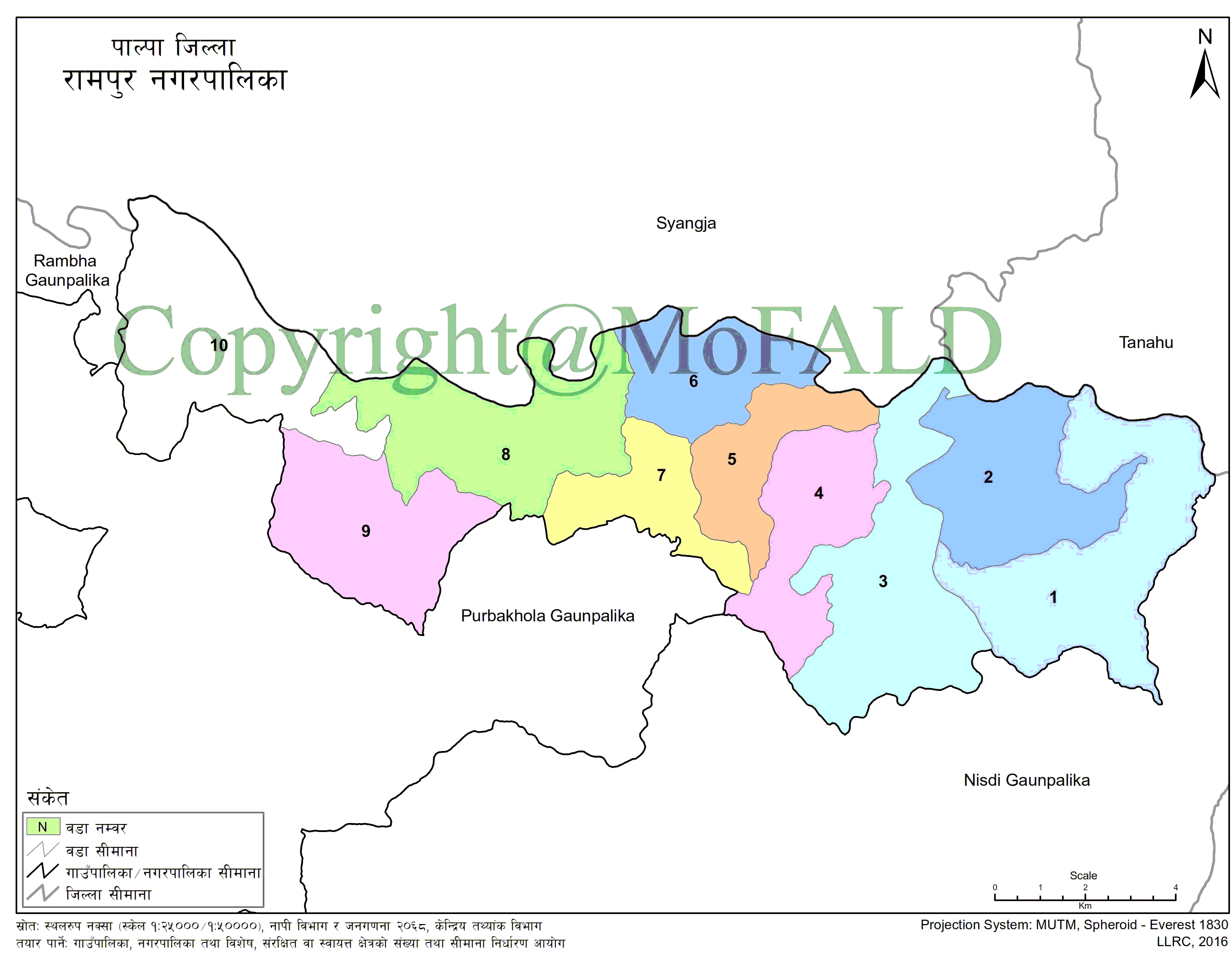 Contact Details:
Rampur Municipality (रामपुर नगरपालिका)
Bejhang, Rampur, Palpa, Lumbini Pradesh, Nepal
Phone: +977-75-400145
Email: [email protected]
Website: www.rampurmun.gov.np