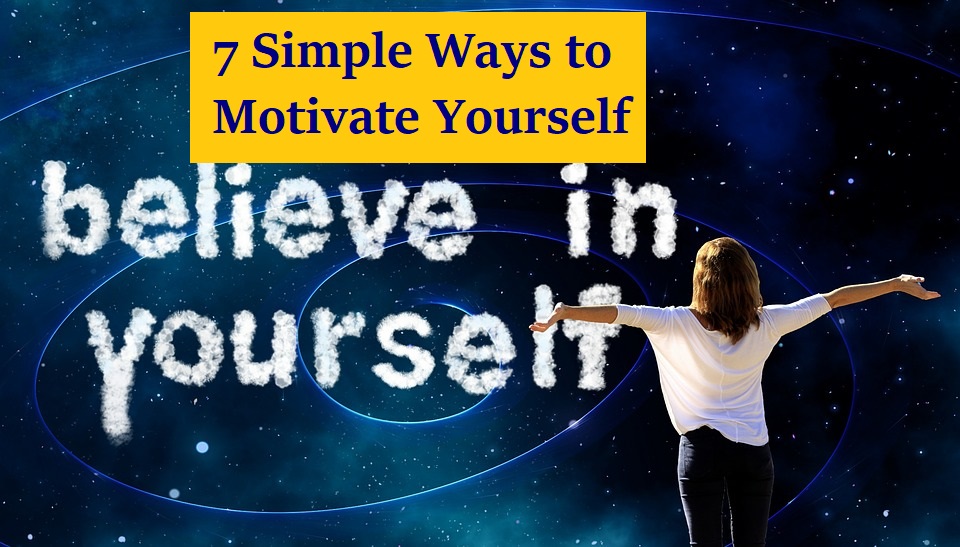 Motivate Yourself:
we will discuss some important things that will prove to be helpful in boosting your motivation. So let's know what points we should pay special attention to keeping ourselves motive. Follow these simple ways to motivate yourself and these self-motivation techniques are useful for all level of person:
1. Create small targets:
First, to increase your self-confidence, divide any of your major goals into smaller goals. By doing so, when you have completed a small goal, Confidence will start increasing on your own and after this, you will become more motivated to fulfill your second goal. As you fulfill your small goals in your life, your confidence will also grow. To motivate yourself or motivate yourself, it is very important to fulfill your goals and it is very important to make small goals to reach your goals. Only after these small goals are fulfilled, we are motivated to move forward and we are also getting a motive.
2. Make a change in thinking:
Identify the ideas you are discouraging factors or change those ideas which are not letting you go forward. Try to replace those negative thoughts or negative things with them and change them with positive thoughts. Some negative thoughts like this - it is difficult to work, or it will not happen to me, how can it be from me? Replace them with positive thoughts like "It is not so difficult" "I can do it" etc. Think of any of your own ideal or a successful person in that area, how they must have been motivated themselves or how successful they are, then you will feel yourself, "Why cannot I when I can do it"? Actually doing this is a bit difficult, but believe that it really works in boosting your motivation and taking you in the right direction, just need to trust yourself and want to move forward.
3. Remember your past accomplishments:
It is a great way to increase your motivation that you have thought of any good achievements in your past, it will give you motivation that your own achievements How to prepare and how you achieved those achievements. By doing this, you can increase your Confidence Level. You can write your old achievements in one place and see instantly whenever your confidence is low. Your confidence will increase.
4. Always feel confident in yourself:
Whether you are anywhere or under any circumstances, do not leave yourself confident. It is very important to keep yourself motivated. So do not let your confidence break down to keep yourself motivated. Having Self Confidence means a lot for a person. Here it is meant to say that you do not feel weak, never think that you cannot do anything. Always maintain self-confidence, but keep in mind that these self-convictions do not change over the Confidence. By doing this you will never feel the lack of confidence. If there is any work that you are afraid of doing, then the habit of feeling confident can only help you overcome that fear.
5. Do not be afraid of making mistakes:
Many students are afraid to make mistakes. They do not know that doing this is very important for a successful life. There is no such successful person in the world that has never made any mistake. Mistakes will happen but learning from those mistakes is very important. If you start learning from your mistakes then the mistakes will make you learn the right path for your future and your confidence will also increase. There are many people in the world that have achieved the greatest achievement in their life only after the biggest mistake of their lives.
6. Change the habit of avoiding any work:
Whether any work is small or big, complete it in time. If you avoid work, then that work makes a negative pressure on you. Which reduce your confidence level and increases your confidence if you fulfill your work in time? If you have some work together and you do not understand how to do it first, do the work that is most necessary for you and after that, complete all the work with the priority of the work. With this, your work will also be completed on time, which will boost self-confidence and you will be able to keep yourself in the thick weight.
7. Do not be afraid to take a risk:
Taking risk is also very important for success in life. You cannot achieve any success without risk. Take care of the risk but the measuring Towels If successful, then self-confidence will increase and if failing then we will get a lesson or lesson and whenever we learn something, our confidence grows. Some people say that the bigger the risk, the success will be as big and the bigger the success, the more your confidence will increase.
you should have clearly understood that what things should be kept in mind to keep yourself motivated. It is necessary to maintain self-confidence. It is hoped that this article will have given you a lot of education to grow in your life and to make yourself successful if you adopt it in your daily routine, you will feel the change yourself.