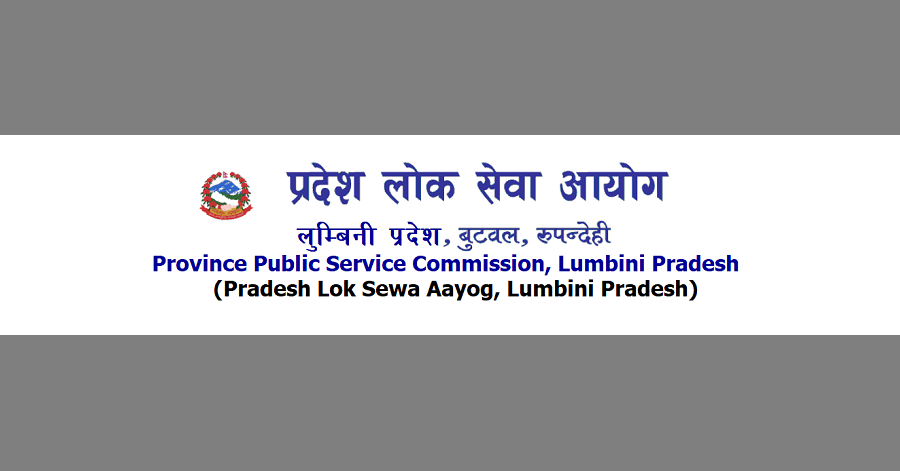 Lumbini Pradesh Public Service Commission: Notification on Sub-Engineer Final Result and Post Recommendations
The Province Public Service Commission of Lumbini Pradesh (Lumbini Pradesh Lok Sewa Aayog), situated in Butwal, proudly announces recommendations for the Sub-Engineer post within its Engineering Service, Civil Group, Assistant Level 5th Level. This decision comes after a thorough evaluation of candidates based on their total marks. This announcement is aimed at ensuring transparency and keeping all stakeholders well informed.
Key Information:
Commission Location: Butwal, Lumbini Pradesh.
Department: Local Government Service, Engineering Service, Civil Group.
Position: Sub-Engineer, Assistant Level 5th.
Notice No: 267/2080-81.
Date of Decision: 2080/06/07.
Detailed Advertisement Breakdown:
General Open & Inclusive Category:

Advertisement No: 52012-52015/2079-80.
Specifically targeting a broader audience, offering equal opportunities for all applicants.

Madheshi Category:

Advertisement No: 52015/2079-80.
Focusing on the Madheshi community, ensuring representation in the engineering domain.

Adivasi Janajati Category:

Advertisement No: 52014/2079-80.
Aiming at including members from the Adivasi Janajati community, promoting diversity.

Women's Category:

Advertisement No: 52013/2079-80.
Dedicated to empowering women in the engineering sector, and fostering gender equality.

Open Category:

Advertisement No: 52012/2079-80.
Open to all, emphasizing meritocracy and talent recognition.
All recommended candidates are advised to stay updated with the Interview and Recommendation Branch in Butwal for further details and steps post this recommendation. This notice is of paramount importance for all stakeholders, ensuring transparent communication from the Commission's end.

Final Result
PPSC Lumbini
Sifaris
PPSC
Notice
Pradesh Lok Sewa Aayog
Lumbini Pradesh